Filipinos love visiting Baguio City! Who doesn't love experiencing that cool climate and mountain breeze? There are many tourist spots in Baguio, and our team visits this beautiful city regularly. Thus, we have already done the hard part for you, and we created a list of Baguio tourist spots and attractions to see and experience with your friends and family.
Post Updated: September 18, 2023: We removed the travel restrictions and guidelines, updated the jeepney fares, updated the status of the Igorot Stone Kingdom and Cafe in the Sky, and created a customized map that you can add on Google Maps.
Table of Contents
Baguio Tourist Spots (2023 Update)
To add this list to your Google Maps, kindly click or tap the photo below:
1. Mines View Park
Located on the northeastern outskirts of Baguio City, this park offers an overlooking view of the mining towns of Itogon and Amburayan Valley. Its iconic viewing deck, posted in almost every promotional tourism poster, made Mines View Park a famous tourist attraction. You can enjoy the beautiful mountain ranges while savoring the calm wind.
Mines View Park also has a handful of activities to offer. You can buy souvenirs in their local shops, wear native Igorot costumes, or make a wish in their wishing well. This park is an excellent addition to your Baguio City tour, perfect for kids, families, and friends.
How to go to Mines View Park: You can take a cab/taxi from the city to go to Mines View Park. You can also take a jeepney ride from the terminal on Lower Mabini Street to the park. Jeepney fare is around PHP 12.
2. Good Shepherd Convent
Only a few meters from Mines View Park, you'll find the best delicacies in Baguio City in Good Shepherd Convent. Food products here range from freshly made fruit jams, peanut butter, locally made biscuits, and fresh juices. Your friends and relatives in the metro will surely love the products of Good Shepherd Convent.
How to go to Good Shepherd Convent: From the entrance of Mines View Park, walk along Gibraltar Road, and you'll pass Modesta Street. Turn right on the road after Modesta Street, and it will lead you to the Good Shepherd Convent.
3. Wright Park and The Mansion
Filipino families love visiting this iconic tourist spot in Baguio. Wright Park is located a few kilometers away from Mines View Deck. It is named after American Governor Luke Wright and serves as a recreational area where tourists can ride horseback. Additionally, Wright Park offers a scenic view with tall pine trees and a pond overlooking the Mansion. It's a great addition to your list of places to visit in Baguio.
4. La Trinidad Strawberry Farm
We know this place is not part of Baguio City. However, this tourist attraction outside Baguio City is worth visiting. These colorful fields are home to the best strawberries in the Philippines. Being coined as the Strawberry Capital of the Philippines, La Trinidad produces the most significant amount of strawberries in the country. After having a side trip in the Valley of Colors, you can ride straight to La Trinidad Strawberry Farm.
This place has no entrance fee, so that you can have a visual treat with your friends and family. You can also experience strawberry picking for only PHP 200-450 per kilogram; the farmers will also teach and assist you in harvesting your produce. The best part of visiting La Trinidad Strawberry Farm is tasting their luscious strawberries! Never miss that part! You can also try other varieties like their famous strawberry ice cream or taho.
How to go to La Trinidad Strawberry Farm: Use the same route/method in the Valley of Colors, and inform the jeepney driver that you will alight at La Trinidad Strawberry Farm. Jeepney fare is also the same at PHP 17. Check out our entire travel story in La Trinidad Strawberry Farm here.
5. Valley of Colors
This colorful hillside community is located in La Trinidad, Benguet. Although it's not part of the city, it is an excellent addition to the list of tourist attractions in Baguio. Just a jeepney ride from the town proper, you can visit this vibrant village and awash your eyes in different colors.
The Valley of Colors is also known as the Stobosa Mural, abridged from three localities: Stonehill, Botiwtiw, and Sadjap. This work of art is inspired by Favela Painting in Rio de Janeiro, Brazil, and spearheaded by the local government to boost tourism in the area. Include this as a side trip to your itinerary before heading to La Trinidad Strawberry Farm.
How to go to Valley of Colors: Take a jeep with the "La Trinidad" signage from the La Trinidad Terminal in front of Baguio City Hall. The fare is PHP 12. You can also take a cab/taxi from the city proper to Valley of Colors for an added price. Read more about our experience in Valley of Colors here.
6. Bell Church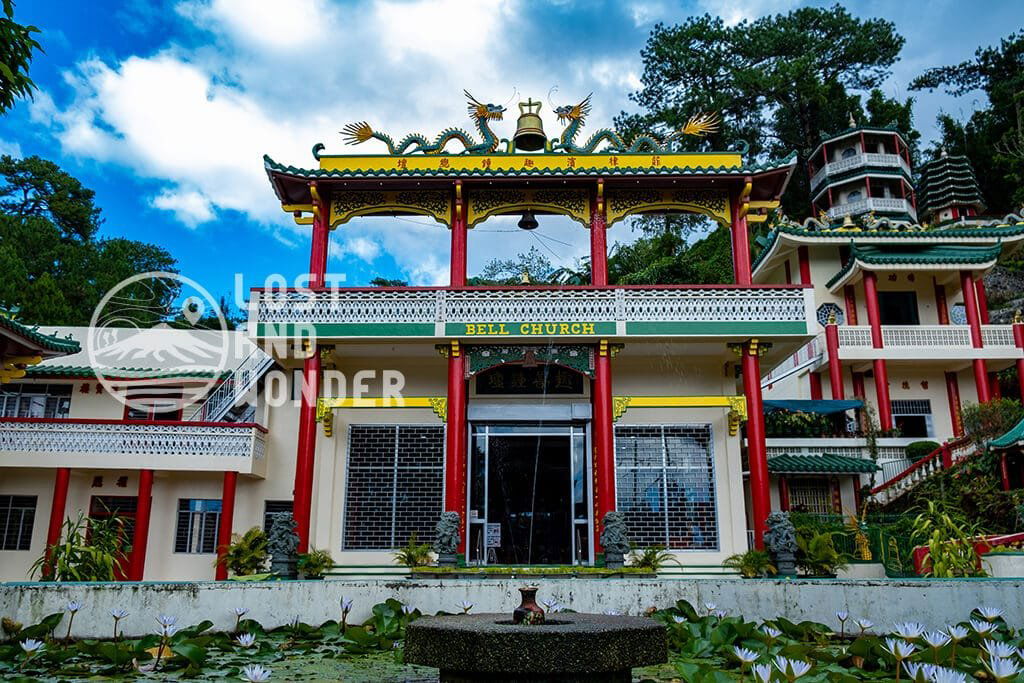 The Bell Church is a Chinese temple near the Valley of Colors in La Trinidad, Benguet. It has been attracting tourists for decades, and the temple represents a piece of Chinese culture in the area. Today, the Bell Church serves as a spiritual place for conducting religious practices in the community.
How to go to Bell Church: After visiting the Valley of Colors, you can walk or take a public jeep to Bell Church Road. The landmark is an archway decorated with dragons and a bell in the middle. Take the Bell Church Road until you arrive at the Chinese temple.
7. Tam-Awan Village
Tam-awan is a cultural village and art center built by the local artists of Baguio City. Its primary purpose is to preserve and bring the culture of the Cordillera to tourists. Significant attractions in Tam-Awan Village are their art galleries, authentic nipa huts, cafes, cultural shows, and workshops. You can even lodge in their nipa huts for a whole Igorot experience at an affordable PHP 500 per person daily. So include this beautiful Baguio tourist spot and have an immersive Cordilleran experience.
How to go to Tam-Awan Village: From Baguio City proper, go to Kayang Street, and you'll find a jeepney station. Take the jeep with the signage "Long-long" or "Tam-Awan," and inform the driver that you will alight in Tam-Awan Village. The fare is PHP 12. Find out the things to do in Tam-Awan Village here.
8. Igorot Stone Kingdom
A new Baguio tourist spot, this park also represents the creativity and rich heritage of the Igorots. The Igorots are said to be skillful in balancing stones and creating sturdy structures. Aside from these representations, the Igorot Stone Kingdom shares valuable histories and backgrounds about their colorful culture.
How to go to the Igorot Stone Kingdom: From Baguio City proper, go to Kayang Street, and you'll find a jeepney station. Take the jeep with the "Long-long" signage and inform the driver that you will alight in the Igorot Stone Kingdom. The fare is PHP 22.
9. BenCab Museum
BenCab Museum houses different forms of contemporary art. The museum also has the will to preserve the environment and the cultural heritage of the Cordilleras. This art gallery is located in Tuba, Benguet, on a promontory of rainforests and mountains.
Aside from its artwork and sculptures, you'll enjoy its peaceful ambiance and the cool mountain breeze ventilating inside the building. You can also spend time with friends and family in their Cafe or garden outside the museum. If you plan to visit Baguio City, include the BenCab Museum on your itinerary and indulge in good food, nature, and beautiful artwork.
How to go to BenCab Museum: From Baguio City, proceed to Kayang Street Jeepney Terminal Station. Have a jeepney ride with "Asin Road" signage to BenCab Museum. The fare is PHP 15.00. Check out our entire travel story in BenCab Museum here.
10. Camp John Hay
Camp John Hay was once a United States Armed Forces military base. Today, it is one of the tourist attractions in Baguio, with different attractions. However, Baguio City also played a significant role in US history, and Camp John Hay is the perfect place to rediscover its backstory.
The base is populated with pine trees, and you'll have a relaxing visit to this popular Baguio tourist spot. Popular destinations are the Bell House – a resting place for US commanders during the early 1900s, the Bell Amphitheater, the History Trail, the Secret Garden, and the Cemetery of Negativism. After spending time around the camp, calm your mind in Starbucks Camp John Hay and enjoy a cup of hot coffee while savoring the cool mountain breeze and the peaceful grove of pine trees.
How to go to Camp John Hay: Go to Perfecto Street near Burnham Park, and you'll find a jeepney terminal. Look for the jeep to "Scout Barrio" and inform the driver that you will alight in Camp John Hay. The fare is PHP 9.00.
11. Mirador Hill
This park is one of the newest tourist attractions in Baguio and is part of the Mirador Jesuit Villa. What makes this place interesting is its quiet and peaceful environment, perfect for travelers looking for a reflective rest in the busy atmosphere of Baguio City. After a day of touring around the city of Pines, we recommend visiting this hill in the afternoon to see the scenic sunset in the background while taking a restful break.
How to go to Mirador Hill: Take a public jeep from Kayang Street and tell the driver to drop you off at Mirador Jesuit Villa. The fare costs PHP 10 (USD 0.2), and the park is open daily from 6 AM to 6 PM. There's also an entrance fee of PHP 100 (USD 2).
12. Session Road
This one-mile road is the business centerpiece of Baguio City. Session Road is filled with different stores, restaurants, and places to hang out. Notable restaurants along Session Road are the Oh My Gulay Restaurant, Retro Diner, Tea House Restaurant and Bakeshop, and many more. You can also find affordable souvenir shops, clothing stores, and other essentials along Session Road.
13. Baguio Cathedral
Our Lady of the Atonement Cathedral, also known as Baguio Cathedral, is a historic structure near the busy Session Road. The two-spired cathedral is well known for its design covered with pink paint. The Baguio Cathedral also became an evacuation site for the locals of Benguet during World War II. Travelers visit this tourist attraction in Baguio to learn about its rich history, and cultural significance, and admire its wondrous beauty.
How to go to Baguio Cathedral: From Session Road, go to Fr. Carlu Street, and on your left is the Baguio Cathedral.
14. Burnham Park
The Burnham Park Reservation is a historic landmark located in downtown Baguio City. It is named after Daniel Burnham, an American urban planner and architect who designed the whole city of Baguio. This park is a great hangout place for all ages, and there are several attractions you can try. You can sail a boat in the park's artificial lake, try delicious street foods, buy delicacies, or stroll around the park. At night, the city becomes alive because of their night market.
15. Baguio Night Market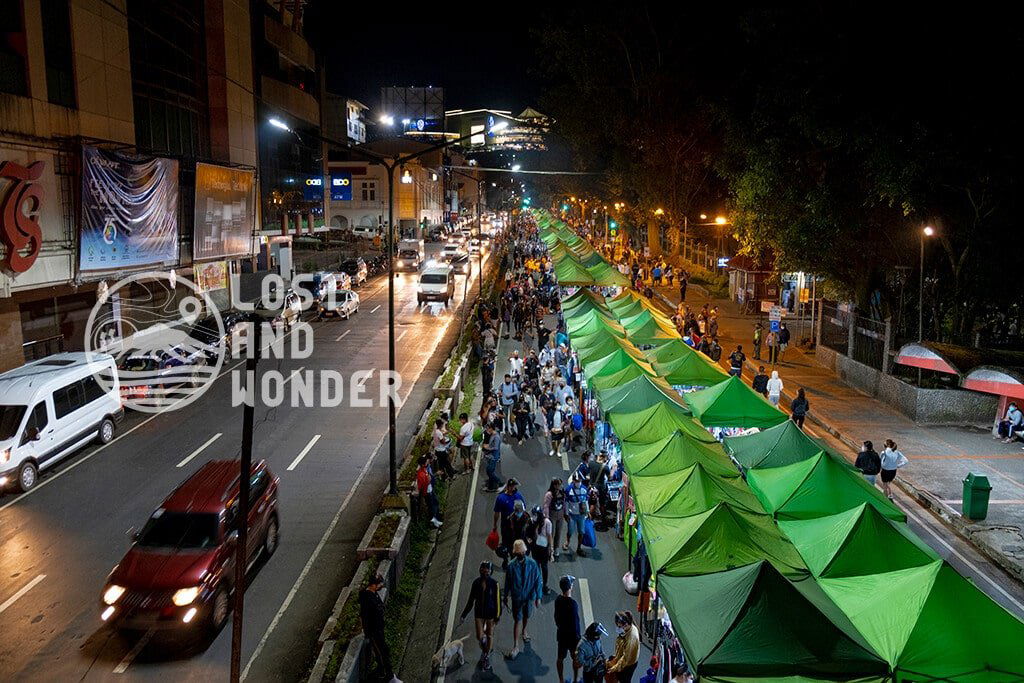 One of the tourist attractions in Baguio that you must not miss is the Night Market on Harrison Road. As the clock strikes nine in the evening, a portion of Harrison Road becomes alive and festive, filled with thrift shops and stores. There are many items to buy in Baguio Night Market, which never fails to attract customers and travelers.
Products here range from bags, footwear, clothing, and digital accessories. There are also souvenir items and kitchenware that you can buy in this place. You'll have great finds and wonderful pasalubong for your loved ones in this market.
How to go to Baguio Night Market: You can take a cab/taxi or walk to Harrison Road at the side of Burnham Park. Baguio Night Market opens every day from 9:00 PM to 2:00 AM. Find out what you can buy at Baguio Night Market. Check out our experience here.
16. Cafe in the Sky (Closed to the Public)
This Cafe offers the most picturesque view of Baguio City. It is located on top of Mt. Cabuyao in Tuba, Benguet, and its high altitude overlooks the beautiful city of Baguio. There's nothing special on their menu. What's remarkable, though, is the experience and its astonishing view. However, Cafe in the Sky is in a protected area imposed by the Philippines Supreme Court, which restricts travelers from visiting. You'll be lucky if you pass through the checkpoint. Other than that, turn around, follow the law, and look for other restaurants around the city. You can check out our comprehensive Cafe in the Sky travel guide here. 
17. Old Diplomat Hotel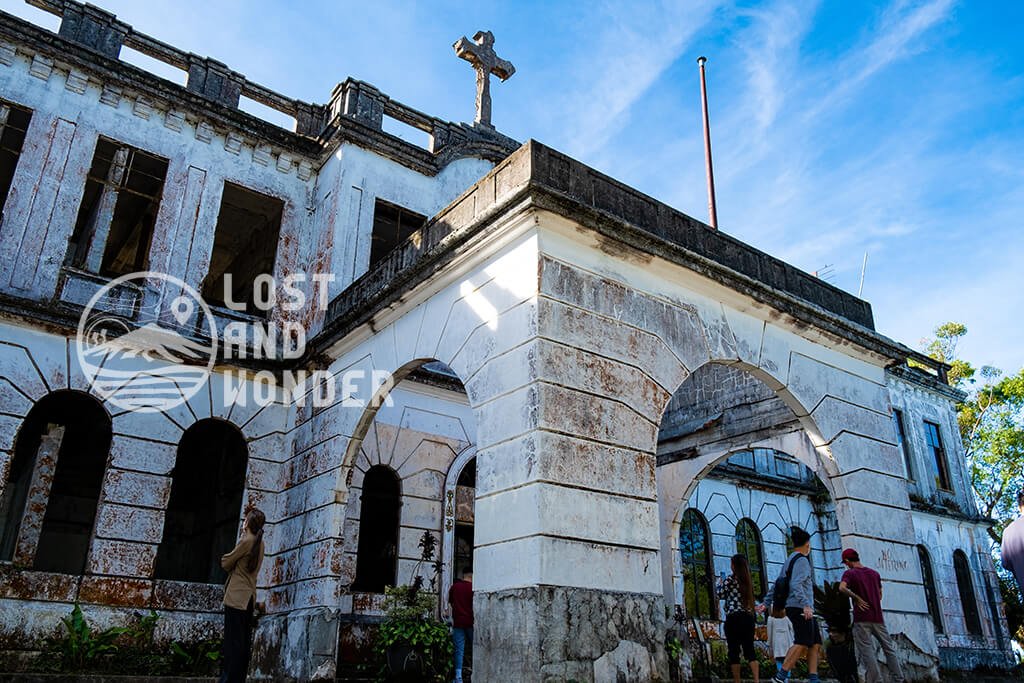 This hotel is an abandoned structure that served as a hotel and a retreat house decades ago. Travelers visit the place to learn about its historical importance during the Second World War. Others wanted to visit the Diplomat Hotel to see if ghosts and spirits genuinely haunt the site. Whether it's a scary trip or not, this place still stands today with great stories of the past etched on its walls.
18. Lion's Head
This forty-foot-tall statue is located in Camp 6 along Kennon Road near the boundary of Tuba and Baguio City. It is a landmark for tourists traveling to Baguio City, and the structure was carved from a limestone boulder in the 1970s. Over the decades, travelers used the landmark as a reference point to Baguio City. Tired travelers can stop over in this place, relax at the nearby view deck, and witness the beautiful panorama of the Cordillera mountains. We recommend visiting the Lion's Head; it's an iconic piece of art and a recognizable tourist attraction in Baguio City.
---
Baguio Tourist Spots Summary
We just shared with you 18 tourist spots in Baguio City. Our team loves Baguio City. Over the years, this fantastic city has kept on evolving even in the middle of the pandemic. This city has two new attractions, the Mirador Hill and the Igorot Stone Kingdom. We hope that you find this post helpful and informative.
To make things easier, you can add this list to your smartphone through Google Maps. Kindly click the link or tap the photo below, and follow the list on Google Maps: https://goo.gl/maps/Kyz7NE8CWdQcPtQk8
You may share this article with your friends and family and help them build their next Baguio adventure. If you need more help developing your DIY itinerary in Baguio City, check out our ultimate Baguio Travel guide here.
---
This post was originally published on November 8, 2020, and updated on September 13, 2023, by the content creators of Lost and Wonder Philippines.