Sagada is well known for its vibrant culture and wonderful sceneries. Among these beautiful attractions are the hanging coffins in Echo Valley, cave connections of Lumiang and Sumaguing and, the Kiltepan peak which offers breathtaking panorama of Sagada. It is less known in the public that this municipality has a lot of majestic waterfalls including the Bomod-ok falls. Here's our travel guide and experience in the Big Falls of Sagada: Bomod-ok Falls. (Post Updated: November 2, 2020)
New Normal Guidelines and Updates in Sagada
As of November 2, 2020: All tourism activities in Sagada are still suspended until further notice according to Sagada Tourism Office. For now, feel free to read this blog post and save it for future reference. Stay safe everyone!
Reaching Bangaan
Bomod-ok falls is located at the northern part of Sagada near the communities of Pide and Fidelisan (often called as "Pidilisan"). For this trip, our tour coordinators from Travel Galore Philippines (new company name is OptiTravel) provided a van for our transportation in exploring the mountainous municipality.
We left from our home-stay around 0745H in the morning and went to Barangay Bangaan. The climate is comforting and the air is totally clean in Sagada, which is comparable to Manila.
We met our tour guides going to Bomod-ok falls at the jump-off point in Barangay Bangaan. Our guides offered a brief orientation on what to expect for this trip and provided safety tips before the hike. We need to hike for an hour and they assured that all efforts are worth it in the end.
There's also a small store near the jump-off point selling cheap hiking items like hats and small bags. We started our hike at 0815H.
The Breathtaking View of Pide and Fidelisan
I talked to one of our guides while walking along the trail. Ma'am Alice, is a mature woman in her mid 40s with sun-kissed skin and great big smile. She shared stories about the hiking experiences of their previous visitors; and they were entertaining. There were visitors who accidentally slipped in watery paths, visitors who traveled all the way to Sagada because they were brokenhearted and many more.
Sharing stories and experiences is a great diversion during the hike; it makes long walks fun and easier. Once we passed the shrouding trees, the scenery was uncovered and it was breathtaking.
I was in awe when I saw this stunning landscape. You can clearly see the paved trail descending to the small barangay of Fidelisan. This shot was taken at a height of 200 meters from the barangay.
Alice told me that the nearest maternity clinic is located in Bangaan. There was once a pregnant local in Fidelisan who's about to give birth, climbed from her home in Fidelisan all the way up to Bangaan, reached the nearest maternity clinic, and born her new child without any effort. My eyes grew wide as I heard that story. The people of Sagada are known for their own strength and endurance. After this, we moved forward a few meters and more beautiful scenic views were unveiled.
The whole community is surrounded with green rice fields in stair-like terraces and the mountains enveloped the place like a guard protecting the people he dears most. There's also a bluish haze of clouds and fog which extends in the horizon, and trees dominating in the land giving fresh air to breathe. I will never grow tired of watching this marvelous sight everyday in the morning if I have a chance to live in this dreamy place.
Barangay Fidelisan
We reached the mountainous barangay of Fidelisan in half an hour. We took a short break and had some refreshments to ease our fatigue. During the break, I observed the simplistic lifestyle of the people living in the area.
Culture and Heritage
It is evident that Sagada has little western influence which kept their culture and traditions preserved. During the Spanish occupation, invaders never reached this place because of transportation issues and difficult trails. Even today, the norms and values of the people are still based from their indigenous belief system and their respect to the elders are paramount.
The Gold Mine of Fidelisan
Majority of the income of the indigenous people of Cordillera came from farming. Here in Fidelisan, a small-scale mine can also be found which is governed by the people of Sagada. Gold was discovered in Sagada in 1974, and no big mining corporation were able to penetrate these small-scale mines.
Miners are able to extract hundreds of kilos of ore per day which can yield up to 30-40% of pure gold. It is a great treasure chest for the people of Sagada.
Crossing the Fidelisan Rice Terraces
After taking a short rest in the mountain village of Fidelisan, we went on and continued our hike. Alice told me that we are already halfway and we need to cross the rice terraces of Fidelisan.
Part of the hike going to the Bomod-ok falls is passing through these stair-like rice fields of Fidelisan. We walk through these net structures, and it can be slippery if the trail is covered with mud.
While crossing these green rice fields, Alice shared an insight about the farmers here in Sagada. Commonly, carabaos are used by farmers to prepare and toil the fields. Here in Fidelisan, carabaos are rare and local farmers use their own feet in toiling the soil. This kind of rigorous practice makes me believe in a Filipino folk saying, "Mas malakas pa sa kalabaw." (We are stronger than carabaos).
This insight brings respect to the people of Sagada. The rice we consume came from the sweat and blood of these farmers, and we must treat them with utter respect and honor.
Like what the saying goes in travel, always leave no trace but only footprints and memories. As travelers, we need to respect the people, the place and their values. The locals of Sagada put a high value in preserving their environment and we must do our part while enjoying their awesome place.
The Bomod-ok Falls
After an hour of long hike, we finally reached the mother falls of Sagada. It is tall and huge. The falling water gives life to the near farms of Pide and Fidelisan. Its cold water relieves the pain of her visitors after an hour of long walk; and the sight is truly rewarding!
Alice told me that the amount of water falling from the waterfall increases during the rainy season which can flood the whole Amlusong tributary to greater depths. Since it's summer, the water levels are shallow in the tributary but the plunge pool is still deep.
Rocks and boulders populate the place which reflect the power of nature in building this majestic waterfall. I'm actually running out of words in expressing the beauty of Bomod-ok falls; it's simply beautiful. I just stood in front her, heard the water crashing in hard rock and felt the cool wind whistling in melody.
After a few minutes of appreciating the place, I stripped my clothes off and started swimming in this deep plunge pool. The water was extremely cold yet helpful in recuperating my tired body.
The Hike Back to Aguid Road
It was already noontime when we started hiking back up to Bangaan. The sun was fully up and the heat was sweltering. Instead of using our previous trail, we hike back on a different route going up to Aguid Road where a jeepney was waiting for us. This time, we crossed the rice terraces of Pide and the scenery was also wonderful.
Hiking back is easier because of the well-established path made of concrete. Just make sure to wear cool clothing and bring some umbrella to protect yourself from the sun. Also, be sure to keep yourself hydrated by bringing water-filled bottles. We had several pauses while hiking back just to appreciate the stunning view of Pide and Fidelisan.
As we reached Aguid Road, my friends and I decided to ride the jeep on top load and enjoy the panoramic view of Pide and Fidelisan.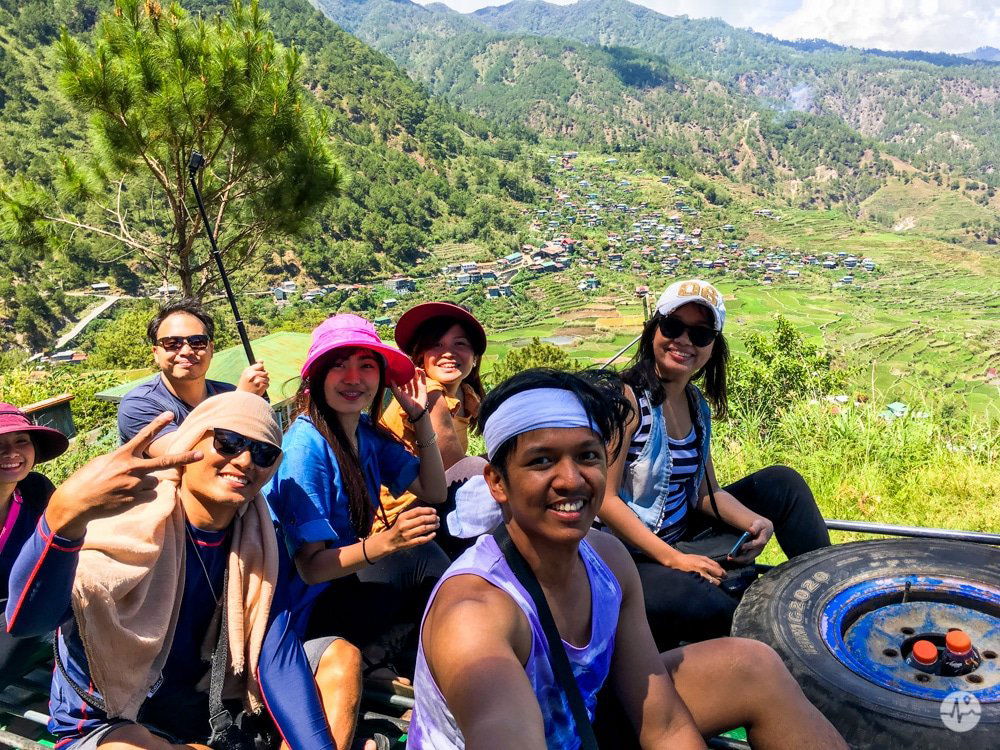 It was almost 1300H when we arrived in Bangaan. The whole trip consumed half of our day yet the experience was totally fun and memorable!
Location of our Hike
[googlemaps https://www.google.com/maps/embed?pb=!1m26!1m12!1m3!1d13146.646458257981!2d120.88696827160764!3d17.125168861778448!2m3!1f0!2f0!3f0!3m2!1i1024!2i768!4f13.1!4m11!3e2!4m3!3m2!1d17.1178555!2d120.8963155!4m5!1s0x338fcd55db447883%3A0x3f8da303c4b2cc36!2sBomod-ok+Falls%2C+Sagada%2C+Mountain+Province!3m2!1d17.132506!2d120.900914!5e1!3m2!1sen!2sph!4v1498022926977&w=800&h=600]
How to Go to Bomod-Ok Falls
All tour packages in Sagada are mandated by their local government through the Sagada Municipal Tourist Information Center. For DIY Travelers, proceed to the municipal tourist information center located at the town proper of Sagada and book for a trip going to Bomod-ok Falls.
The trip consists of a 3-5 hour hike and ride from town proper going to Bangaan and back. Here are the following rates:
| | |
| --- | --- |
| ITEM | PRICE |
| Guide Fee | PHP 500 for 1-7 visitors |
| Barangay Fee | PHP 10 per visitor |
| Transportation Fee: | |
| Two-way vehicle hire via Aguid | PHP 650 |
| Two-way vehicle hire via Bangaan | PHP 500 |
Summary and Tips
There are a lot of places to see in Sagada and one of it is the marvelous Bomod-ok falls. It is recommended to hire a guide for this trip and think of the guide fee as your contribution and aid for these people, because they are also using the money in preserving the environment and improving travel experience.
Part of the hike is seeing the majestic rice terraces of Pide and Fidelisan and make sure to bring your water bottles for hydration during the hike.
There are a lot of rocks and boulders in Amlusong tributary so be careful in crossing this path going to Bomod-ok for the rocks are sometimes slippery specially when wet.
The hike back to Bangaan is more taxing than the previous so be sure to bring some snacks with you during the hike for energy.
To enhance your Sagada experience, ride a top load jeep if you have a chance. This will let you see the panoramic view of Pide and Fidelisan.
Of course, bring your cameras, take photos and share them!
For more current details about Sagada Tourism, visit their Tourism Office Facebook Page at https://www.facebook.com/Sagadatourism/
Our experience here in Bomod-ok falls is truly fun and memorable. I also highly recommend Alice and Ester as our guide for this trip, they are entertaining and fun to be with. This trip is made possible by Travel Galore Philippines. (Now named Opti Travel)
Sagada Adventure Series
Check out other travel stories and guides in Sagada:
---
Did you find this travel guide fun and exciting? Feel free to share this to your friends! 🙂 This post is updated on November 2, 2020.