Magalawa Island in Zambales is one of the unpopular beach destinations in the Philippines. The island boasts a serene atmosphere, white sand, rich marine life, and a uniquely shaped sandbar. It's a perfect place for people looking to unwind from the busy life in the city. We stayed at Armada Beach Resort, one of the resorts found on the island, and had an amazing 2-day and 1-night vacation in this remote paradise.
Post Updated: September 7, 2023: We updated Armada Resort's accommodation options and prices. We also added our new vlog about our experience in Magalawa Island.
Additionally, we created a vlog about our experience in Magalawa Island. Feel free to watch the video and read along for more details on how to visit this magnificent place.
Click a section to jump into content
Magalawa Island Location and Description
Magalawa Island is located in Palauig, Zambales. It has a total land area of 56 hectares and is accessible through a 10-minute boat ride from Sitio Luan. The island boasts creamy white sand beaches, towering coconut trees, rich marine life, and sea corals, perfect for snorkeling and diving.
Even though the island is surrounded by seawater, potable drinking water is enormously acquired through jetmatic and pitcher pumps. Fishing is an everyday livelihood, but rice is not grown on this island; thus, the locals must buy grains from the mainland.
Unlike other beaches, Magalawa Island has a calm and quiet environment, a zen place away from the noisy and stressful atmosphere of the metro.
An Interesting History
According to the elders living there, Magalawa Island was once connected in Sitio Luan Barangay Lipay with a river bisecting the two areas. As years passed, the rapid current from the river became stronger and broader. Due to continuous erosion, the land started to separate, creating an island. The natives called this formed island "mag-luwa," which means "about two places."
How to go to Magalawa Island?
For public commuters, you can easily visit Magalawa Island via bus ride from Victory Liner Caloocan City going to Sta. Cruz, Zambales. Here are the directions:
Visit Victory Liner Caloocan Bus Terminal and book a bus ride to Sta. Cruz, Zambales (via San Fernando). The fare is PHP 510 (USD 9.3).
Travel time from Manila to Zambales is around 5-6 hours, depending on the traffic.

There is another route heading to the island via SCTEX (PHP 607 or USD 11.05), which can cut your trip to more than an hour.

Advise the bus driver or staff that you will alight at Radio Veritas Road in Barangay Pangolinan, Palauig, Zambales (please check the photos below to be familiar with the landmark).
Once you arrive at Radio Veritas Road, take a public tricycle and go to Oslet Armada Fish Port in Barangay Luan. The ride from the drop-off point to the fish port is around 30 minutes. The fare is around PHP 100 (USD 2) per person.
Lastly, take a boat ride from Oslet Armada Fish Port to Magalawa Island. Travel time is around 10 minutes.
There's an available parking lot near the Oslet Armada Fish Port for visitors with private vehicles.
Tricycle route from Radio Veritas Road to Barangay Luan
Once you arrive at Barangay Pangolinan on Radio Veritas Road, you can take a tricycle to Oslet Armada Fishdealer Compound in Brgy. Luan. Going to the port is smooth except on the last 1/3 of the ride due to its unpaved path and ongoing road construction.
IMPORTANT NOTE: Magalawa Island has two available resorts, Ruiz and Armada Resorts. We recommend the Magalawa Island Armada Resort since they have a better beachfront, a longer shoreline of white sand beach, and a sandbar. It is recommended to contact your chosen resort before going to Magalawa Island because most of their packages include boat transfers to and fro the island. For Armada Resort Magalawa Island visitors, you will alight in Oslet Armada Fishdealer Compound in Brgy. Luan and their staff will be waiting there.
Boat Ride from Brgy. Luan to Magalawa Island
We notified the staff of Armada Resort when we arrived at Radio Veritas Road. As we reached the port, the resort staff was already waiting for us. The boat ride to the island is around 10 minutes.
Armada Resort Magalawa Island Review and Experience
After more than six hours of travel, we finally arrived at Magalawa Island. My tiredness was gone as I stepped down from the boat after seeing the island's beauty. Magalawa is peaceful and quiet, a signature most travelers will love. A staff member greeted us upon arrival. She gave a brief reminder of the house rules, features, and amenities of the place.
Magalawa Island Rates and Other Fees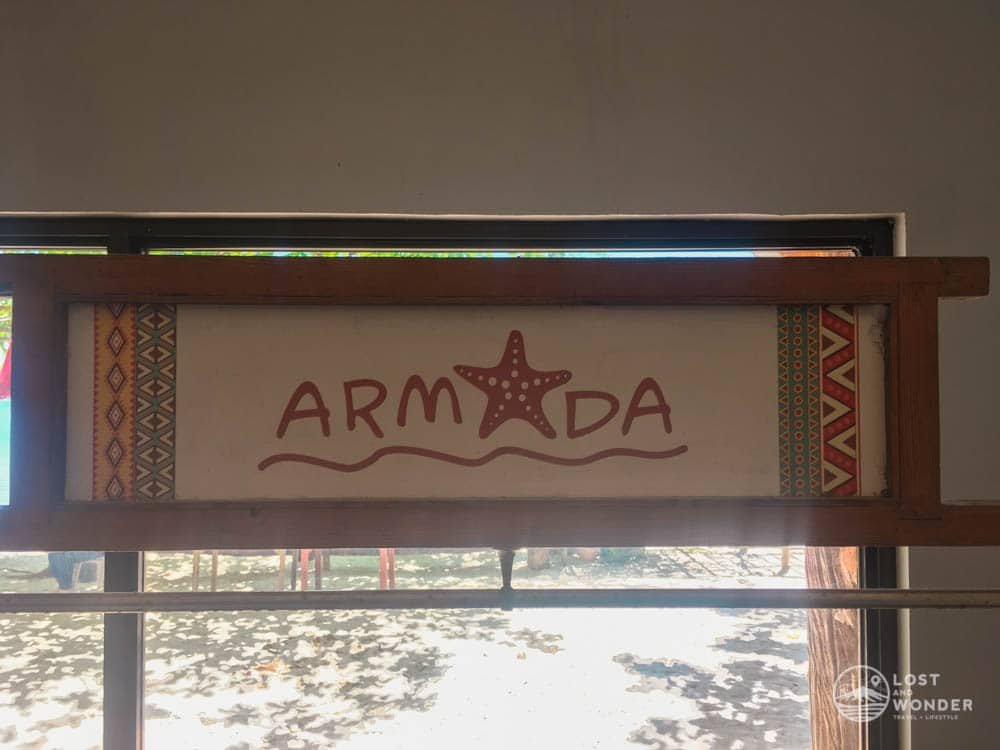 Armada Resort has many tour packages depending on the length of stay and the number of people in a group. We availed of their 2-Day 1-Night Complete Package for two people. This includes round-trip boat transportation, an entrance fee, four meals, and snorkeling activity. The price is reasonable because it already consists of the roundtrip boat ride and the snorkeling activity. Although we bring our tent for our accommodation, this is the cheapest package available for a group of 2.
If you don't want to stay in a tent overnight, you can avail yourself of their AC or non-AC rooms for an additional price. Here are their updated rates, packages, and accommodations:
Package
Details
Day Tour
The island is open only from 7 AM to 4 PM for day tours.

Entrance Fee: PHP 200 (USD 4) per person

They also have a cottage available for bigger groups at PHP 1000 (USD 19)

Overnight Tour (2 Days and 1 Night)
Check-in time on the island is 1:30 PM, and check-out time is noon the next day.

Entrance Fee: PHP 500 (USD 9) per person

Check the following table for the available accommodation options for an overnight stay.

3 Days and 2 Nights Stay
Entrance Fee: PHP 700 (USD 14) per person
Overnight Accommodations
Price and Details
Nipa kubo with standard fan and use of public bathroom
PHP 2000 per room (USD 36)
Kubo villa with standard fan and use of public bathroom (3-5 persons)
PHP 3000 per room (USD 55)
Bigger kubo villa with standard fan and use of public bathroom (4-6 persons)
PHP 3200 per room (USD 58)
Room with standard fan and private bathroom (6-8 persons)
PHP 3500 per room (USD 64)
Small room with AC and private bathroom (3-6 persons)
PHP 4000 per room (USD 73)
Medium room with AC and private bathroom (7-11 persons)
PHP 5000 per room (USD 91)
Big room with AC and private bathroom (12-15 persons)
PHP 7000 per room (USD 127)
Tent Rental (good for two persons per tent)
PHP 600 (USD 11) per tent. Inclusions: sleeping mat, linen, and pillows.
Bring your own tent
Pitching fee of PHP 200 (USD 4) for a small tent.

PHP 500 (USD 9) for family-sized tents.
If your group plans to bring your food and drinks, you need to pay the corkage fee of PHP 200-500 (USD 4-9) per group. Big groups with more than 20 persons need to pay PHP 1000 (USD 19) for the corkage fee.
Also, if you bring your private vehicle, there's a parking fee of PHP 100-200 (USD 2-4), depending on whether you're on a day tour or an overnight stay. Lastly, an environmental fee of PHP 50 (USD 0.91) per adult person is required.
About Armada Resort Magalawa Island
The insignia of Armada Resort is a chocolate chip sea star that can be found around the island. Although you will see these sea stars scattered all over the shore, visitors are prohibited from touching and capturing these creatures for souvenirs.
Generally, the whole place is calm and relaxing, and loud music is prohibited. The area for pitching tents is surrounded by tall trees, perfect for providing comfort and shade in the middle of the day. The sand here is coarse yet white, and the beach waves are mild and timid. There are available nipa huts around the beachfront where you can stay and savor the wind.
Similar to Lakawon Island, there's also a sandbar on Magalawa Island. It is my favorite part of the island, and it's decorated with colorful beach flags. There are nipa huts in the sandbar too, where we spent most of the afternoon.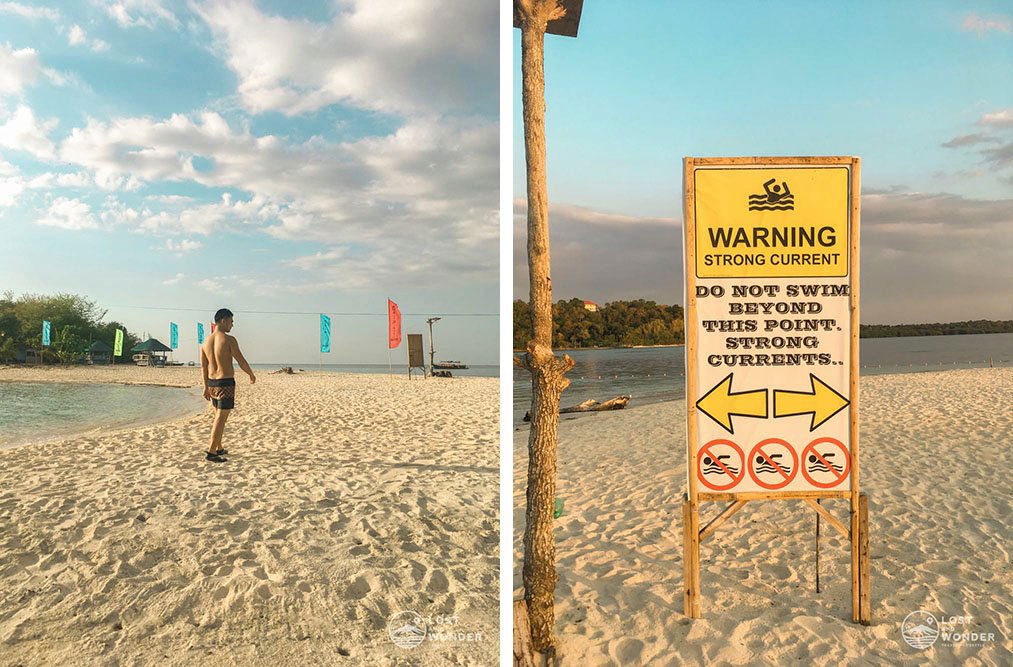 Take caution because of a riptide near the sandbar. Don't go near the riptide to prevent any accidents.
Common Bath
Their shared bathroom is not impressive. Water supply in the afternoon is limited, and the locks in some shower cubicles are defective, which is a nuisance. If you're concerned with your privacy and bothered with their shared baths' sanitation, then we recommend availing their room accommodations with private toilets.
Seafood Everywhere
Our four-set meals include lunch, dinner, breakfast, and another lunch for the following day. Most meals served were abundant in seafood like fish, shrimp, crabs, mussels, and seaweed. If you're allergic to seafood, inform the staff for assistance.
Our Solo Experience on the Island
The number of guests was few when we visited Magalawa Island. By afternoon, we were the only guests left on the island! So we enjoyed our stay in the whole Magalawa Island Armada Resort all by ourselves.
Snorkeling on Magalawa Island
After having our breakfast the next day, we went out and availed of their snorkeling activity. Snorkeling gear and fees are already included in the package.
Going Back to Manila
We checked out in the resort at 1200H and rode a boat back to the port. After it, we took a public tricycle to go back to the main highway. From the main road, we took a jeep going to Victory Liner Iba Bus Terminal. From Iba Bus Terminal, we took a bus going back to Cubao, Quezon City.
Conclusion
Overall, we enjoyed our 2-day, 1-night stay on Magalawa Island. The place is not crowded, unlike the other popular islands and beaches. Therefore, it is perfect for people looking for a quiet and peaceful place to stay away from the metro.
Magalawa Island Itinerary
Here's our sample itinerary in Magalawa Island for 2 days and 1 night.
Time
DAY 1
0430H

ETD Victory Liner Caloocan (Bus ride from Caloocan going to Palauig, Zambales)

1000H

ETA Palauig, Zambales (Drop off point: Radio Veritas Road, Barangay Pangolinan, Palauig, Zambales)

Take a tricycle going to Oslet Armada Fish Dealer Compound in Brgy. Luan

1020H

ETA Brgy. Luan (Take a boat going to Magalawa Island)

1030H

ETA Magalawa Island Armada Resort

1030H onwards

Free time (Beach bum, swim, snorkel, and explore the island)
| | |
| --- | --- |
| Time | DAY 2 |
| 1200H | ETD Magalawa Island (Boat ride from the island going back to Brgy. Luan) |
| 1210H | ETD Brgy Luan to Main Highway (Take a tricycle ride going to the main highway) |
| 1240H | ETD Radio Veritas Road to Victory Liner Iba Bus Terminal (Take a jeep going to the bus terminal) |
| 1300H | ETA Victory Liner Iba Bus Terminal (Take a bus back to Manila) |
| 1900H | ETA Manila |
Magalawa Island Trip Expenses
Here are our travel expenses for this trip. Please take note that other food and souvenir expenses are not included in the list. You will save more money if your group consists of more than 5.
ITEM
PRICE
Bus From Caloocan going to Palauig, Zambales

PHP 391/pax (New Rate is PHP 510/pax as of August 2023)

Tricycle from Brgy. Pangolinan, Radio Veritas Road going to Brgy. Luan (Round Trip)

PHP 100/pax

PHP 200/pax (Round Trip)

Magalawa Island Armada Resort 2D1N Complete Package for 2

PHP 1,600/pax

Jeep from Brgy. Pangolinan going to Victory Liner Iba Bus Terminal

PHP 23/pax

Bus from Iba, Zambales going to Cubao

PHP 375/pax (New Rate is PHP 479/pax as of August 2023)

TOTAL EXPENSES
PHP 2,589/pax
Magalawa Island Travel Tips
Ensure to contact your chosen resort before going to the island for proper boat transportation arrangements and seamless travel. You can contact Armada Resort for reservations at +63919-819-6725. You can also check Armada Resort's Facebook Page at https://www.facebook.com/ArmadaResort.

Keep yourself hydrated by bringing water-filled bottles with you all the time. There is a free water dispenser in the Magalawa Island Armada Resort restaurant, so utilize it.
Bring mosquito repellents like lotions for protection, especially for travelers availing a tent accommodation.

Also, bring your bag locks for tent accommodations for safety and security.

The signal reception for both Smart and Globe on the island is inconsistent.

Don't forget to bring your underwater camera. Marine life is rich on the island, so don't miss a shot!

Bring a first-aid kit! This is self-explanatory.

Bring sunscreen for protection from harmful UV rays.

If you're uncomfortable with common baths, then avail of their AC rooms. These rooms have private baths but come with a hefty price tag.

There are two mini-stores inside Magalawa Island Armada Resort, where you can buy beers, junk food, and other kinds of stuff.
---
This post was originally published on May 7, 2018, and is currently updated on September 7, 2023.