Tumalog Falls is one of the most beautiful waterfalls in Southern Cebu. It's located in the coastal municipality of Oslob and it's only a few kilometers away from the famous Whale Shark Site in Barangay Tan-awan. It is a great addition to your Southern Cebu Adventure because of its natural beauty and cool waters. Here's our comprehensive DIY travel guide and experience in Tumalog Falls. Post Updated: November 11, 2020
New Normal Guidelines and Updates in Tumalog Falls, Oslob
As of November 11, 2020, Tumalog Falls is temporarily closed to the public according to Cebu Provincial Tourism. On the other hand, the whole Cebu island is open only for local residents and there are only a few tourist spots that are open. Please visit Cebu's centralized booking site (https://discover.cebu.gov.ph) and find out the currently open tourist attractions in the island.
Always remember to travel safe and be safe. Be a responsible tourist by following the local safety guidelines and protocols. For now, feel free to read and save this post for future reference.
Tumalog Falls General Information
The locals of Cebu discovered this waterfalls last 2012. It then became an instant tourist attraction because of its scenic site and cool bluish-white waters. Tumalog Falls is specifically located in Barangay Luka, Oslob, Cebu. Other locals named this waterfall as "Toslob" or "Mag-ambak." Today, going to this waterfalls is more accessible. A single ride on a habal-habal (local term for a motorcycle) is enough to reach this majestic place.
---
How to Get to Tumalog Falls
From Mactan-Cebu International Airport to Oslob, Cebu.
Take a cab going to the South Bus Terminal in Cebu City, then take a bus going to Bato via Oslob. The bus ride from the bus terminal going to Oslob is around 2-3 hours depending on the traffic. Once you arrived in Oslob, take a habal-habal going to Tumalog Falls.
Kawasan Falls to Tumalog Falls.
Take a bus from Badian, Cebu going to Bato Ceres Bus Terminal in Santander, Cebu. From there, take another bus going to Oslob then take a habal-habal going to Tumalog Falls.
Oslob to Tumalog Falls.
There are habal-habal drivers available outside the site. Take a habal-habal going to Tumalog Falls.
---
Best Time to Visit
The best time to visit Tumalog Falls is from January to early June. These are the dry months in the Philippines and it is safer to visit this place during this time. The months of late June to December are the rainy and typhoon season in the Philippines. The storms in this country can get crazy thus we recommend visiting this place during the dry months.
---
Tumalog Falls: Our Experience
Our Habal-Habal Ride Strategy
This is what we did and experienced when we visited the Tumalog Falls. From our beach-side inn in Oslob, we asked the staff to get us a habal-habal ride going to the whale shark watching site and Tumalog Falls. A round trip from the inn going to the whale shark watching site and the falls costs around PHP 300 (USD 5.70) per person.
After our memorable encounter with the Butandings (aka Whale Sharks), we went to Tumalog Falls. I love riding the habal-habal because I was able to see the amazing rain forest of Southern Cebu in 360 view. When we arrived in the entrance gate going to the falls, we need to ride another habal-habal going down to the falls. The locals told me that the habal-habal riders are doing a specific rotation in the area. There are riders assigned to provide transportation for Tumalog Falls and while the others are assigned for the whale shark watching. I see it as a form of courtesy, respect, and even share of work among the riders of Oslob.
A round trip from the entrance gate going to the falls costs PHP 50 (USD 0.95) per person. If you don't want to spend PHP 50 (USD 0.95), you can walk from the gate going down to the falls. But the road going down is really steep! After your visit from the falls, you will be exhausted going back up to the gate. Treat the PHP 50 (USD 0.95) as a form of help and donation for the locals.
Tumalog Falls Entrance Fee
A simple welcome tent greeted us when we arrived on the area. From here, we paid PHP 20 (USD 0.38) for the entrance fee. The local government is using this fund to maintain and protect the area. For me, seeing the waterfalls in person is completely priceless.
A Magical Experience in Tumalog Falls
I was truly in awe the first time I saw the Tumalog Falls in person; the view is magnificent! The rushing pristine water carved its rocks into beautiful figures. The cool turquoise water saturated the plunge pool and the towering trees populated its home like a scene in a fantasy movie. Sunlight dappled the surface with glistening colors making this waterfall an eye-candy for every travelers.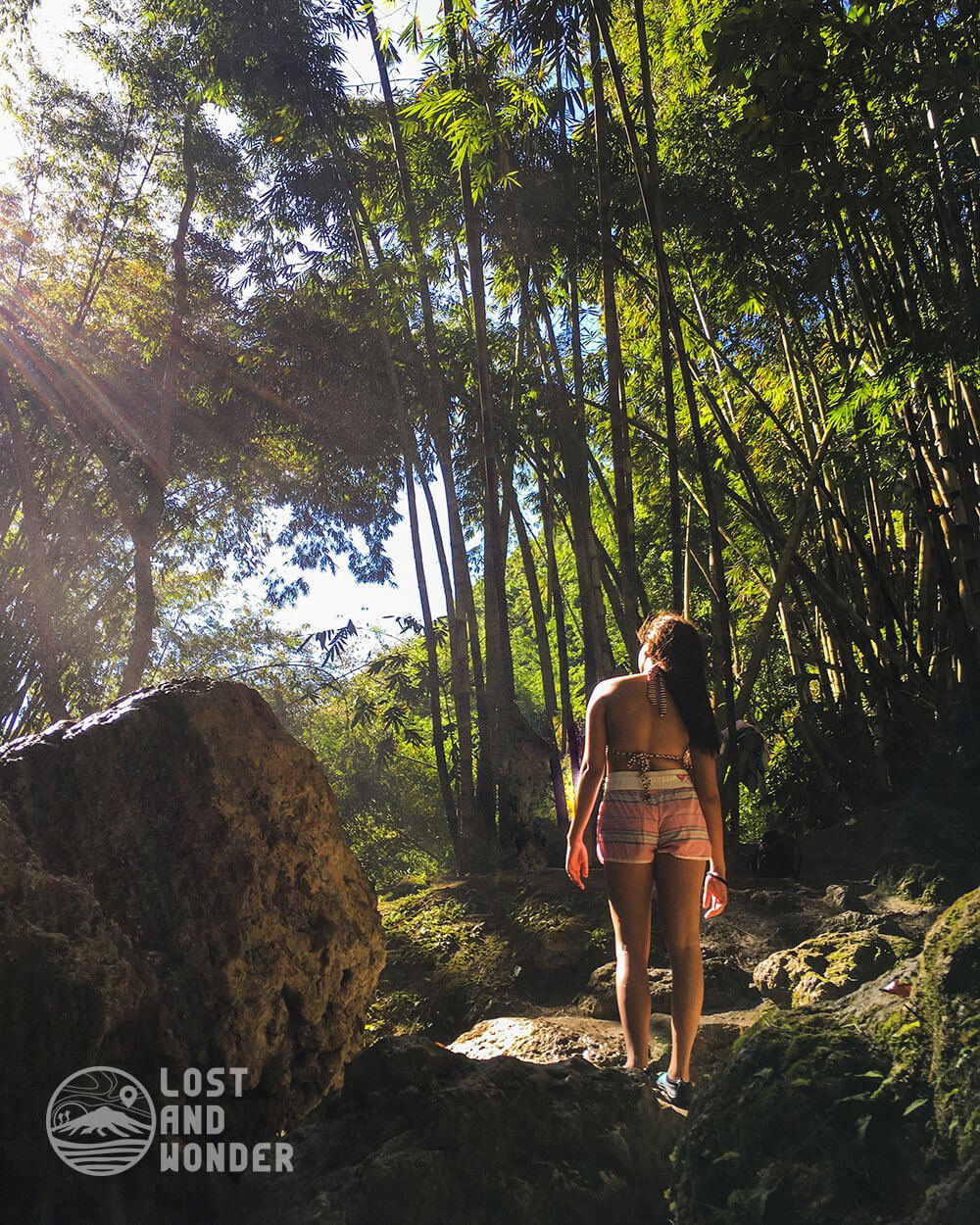 Things You Can Do and Travel Tips
Aside from taking pictures in the area (like what we did LOL), you can also swim in the plunge pool of the waterfalls. The pool has a depth of 3 to 4 feet and the water temperature is chillingly cold.
If you need to change clothes, there's a lodge before the welcome tent.
There's also a public restroom inside the lodge.
There's no time limit in visiting the place, so just spend time and enjoy.
I would recommend visiting Tumalog Falls in the morning (like around 8:00 to 10:00 AM). At this time, the number of visitors are few and the sunlight hitting the waterfalls is simply magical.
I also recommend bringing your waterproof bags to protect your vulnerable gadgets and other personal belongings.
Always remember to pack light! Leave your big bags in your rented inn or hotel.
Bring your own water bottle, no stores are available in the area so keep yourself hydrated.
Apply sunscreen and protect yourself under the sun.
The ground going to the falls is slippery thus, wear non-skid footwear to prevent injury.
Be a responsible traveler. Throw trash at the appropriate garbage cans and follow the rules of the place.
For international travelers, please bring pocket money. All transactions here are made in cash. Our credit and debit cards are futile in this place.
Lost and Wonder's Southern Cebu Adventure Blog
---
Did you find this post helpful? Then share it to your friends! Make sure to include this amazing place in your itinerary after visiting the Whale Shark Encounter Site. For questions, just leave a comment below or send me an email at blainechrian@lostandwonder.com. Post Updated: November 11, 2020.
Tara! Byahe ulit Tayo! Let's get Lost and Wonder!
Tag your travel photos with #LostandWonder