Sagada is a high-altitude municipality located in the Mountain Province of the Philippines. This place is not just blessed with beautiful sceneries and landscapes but also rich in history, culture, and tradition. Many tourists worldwide visit this place to discover its hidden gems and learn more about the heritage that the people have carried for thousands of years. In this ultimate travel guide, we will discuss the Sagada tourist spots, places to stay, and things to do in this breathtaking mountain town.
Brief Information About Sagada Philippines
Sagada is located west of Bontoc in the Mountain Province of the Philippines. It has an average elevation of 4,800 feet and features a subtropical highland climate. Its coldest month is every February, when temperatures can drop to 9C. Due to its consistently cool environment, the town can cultivate products such as lettuce, tomatoes, strawberries, lemons, and oranges. In recent years, tourism has increased in Sagada because of mainstream media influences. Sagada boasts beautiful landscapes, hiking trails with amazing sceneries, and historical tours that will leave visitors with knowledge about the culture and heritage of the Igorots.
Travel Requirements Before Visiting Sagada
Sagada's local government has set requirements that tourists must follow before visiting the municipality. Additionally, visitors are required to pay the tourist registration fee (PHP 100 or USD 2) at the local tourist information office. Here are the travel requirements before visiting Sagada:
Book at least a one-night stay at a DOT or LGU-accredited accommodation online. You can find the

list of accredited establishments here.

After securing your booking, your accommodation will provide an access code for registration through the

Umali Kayo Tourist Registration Portal.

Sign up and follow the instructions on the website.

After successful registration, you must print and bring your registration summary with a QR code and present it at the Sagada Border.
How to Go to Sagada
Bringing your private vehicles is possible, but the most popular option is riding a bus. Here are several ways to visit Sagada:
Private Vehicle: Manila to Sagada
If you are coming from Manila, you can take the usual route from Manila to Baguio City. You have the option to take a break in Baguio City before heading to Sagada because the drive to the Mountain Province is challenging. 
From Baguio City, drive northward via Halsema Highway to Bontoc, the capital of the Mountain Province. Halsema Highway features zigzag roads, and some sections of this highway are located next to a cliff. The trip from Baguio City to Sagada via Halsema Highway can take up to 5 hours, depending on the weather and road conditions. You can check

the local government's Facebook Page

for any updates about Halsema Highway.

After safely arriving at Bontoc, you can drive westward of the city to Stauton Road. This road will lead you to Sagada.
How to go to Sagada from Cubao: Commute Option
This is the most popular method of visiting Sagada. CODA Bus Line provides bus transportation from Cubao Quezon City to Sagada, which takes around 8-10 hours.
CODA Cubao Bus Station Address and Contact Information

HM Transport Inc. Monte de Piedad, corner Maryland Street, Cubao, Quezon City, Metro Manila

+63 927 559 2197

+63 929 521 3229

CODA Bus Cubao and Sagada Trip Schedule

Cubao to Sagada Bus Departures

8:00 PM, 9:00 PM, 10:00 PM, 10:30 PM, 11:00 PM, 11:30 PM

Sagada to Cubao Bus Departures

10:30 PM, 2:00 PM, 3:00 PM, 4:00 PM

Bus Fare

USD 22-24 (PHP 1210 to PHP 1344)
You can also purchase bus tickets online through their website for convenience.
Sagada Tourist Spots
Nestled in the breathtaking Mountain Province of the Philippines, Sagada is a hidden gem waiting to be discovered. With its captivating landscapes and rich cultural heritage, Sagada boasts an array of enchanting tourist spots and attractions that will leave you in awe.
Bomod-Ok Falls
This majestic waterfall is located in the northern part of Sagada. Visiting Bomod-ok Falls requires a downhill hike for an hour. Your reward is the cold mountain waters pouring from the waterfall and a place to swim in its plunge pool.
Fidelisan Rice Terraces
As you hike to Bomod-ok Falls, you will stumble upon gorgeous rice terraces in the villages of Pide and Fidelisan. These green fields provide rice and other crops and offer a glimpse of the locals' way of life.
Church of St. Mary the Virgin
Visiting this church is part of the Paytokan Walking Tour (also known as the Eco Tour) provided by the local tourism office. This church was built in the 1900s by the American Anglican Missionaries. With its historical significance and spiritual influence for more than a century on the people of Sagada, this church garnered recognition as a cultural heritage site.
Echo Valley (Baw-Eng Creek)
This place showcases an amazing panorama of the Baw-eng Creek. It overlooks the mountain forests of Sagada with limestones and other rock formations nearby. Interestingly, this tourist attraction is also called Echo Valley because of the resounding echo from a shout.
Hanging Coffins of Sagada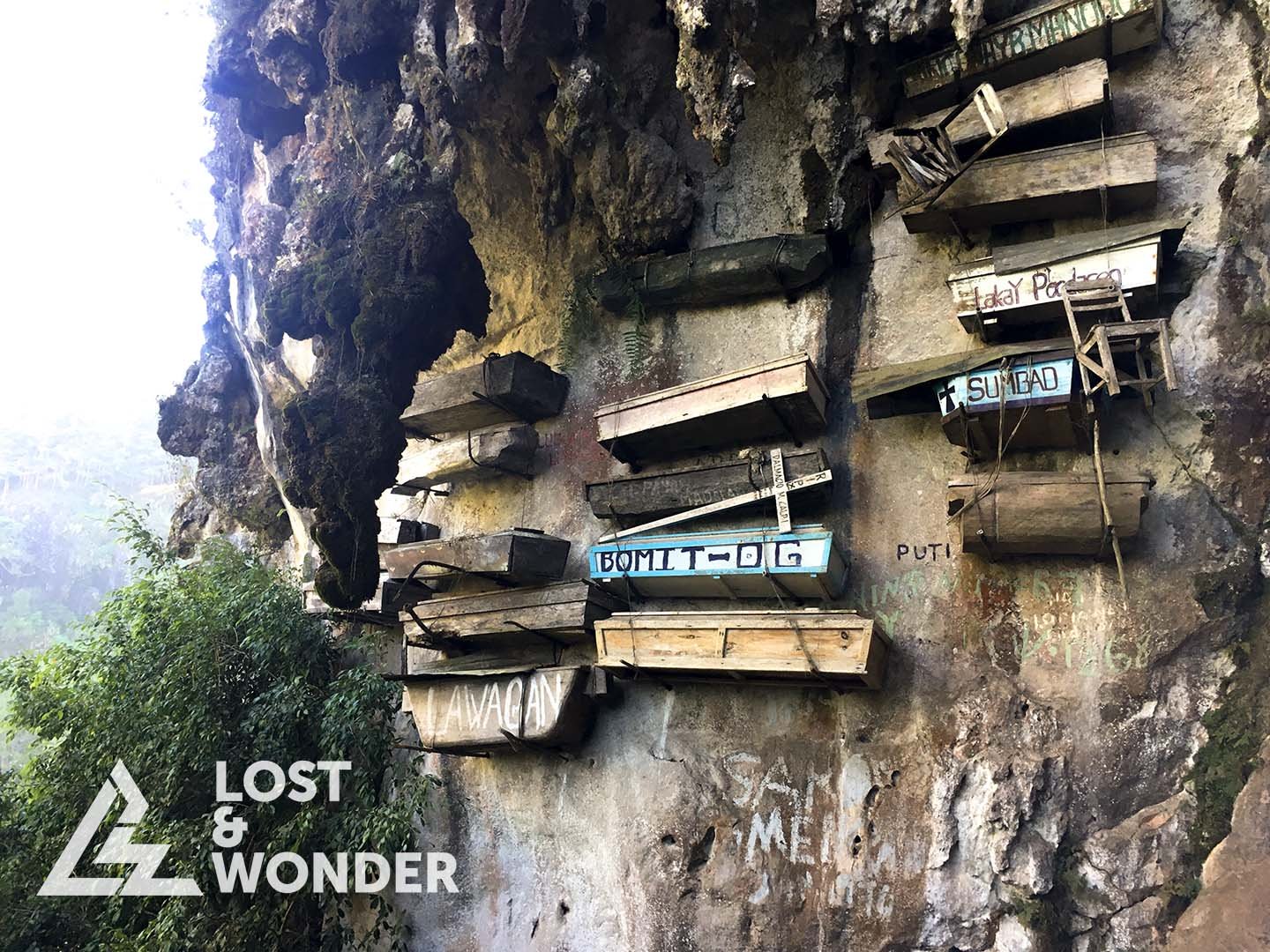 This tourist spot is one of the centerpieces of Sagada. It features coffins hung on a mountain cliff. The Sagada Hanging Coffins is a burial practice observed for thousands of years and offers significance to the local culture and heritage.
Matangkib Exit
At the end of your Paytokan Tour, you have an option to visit the Matangkib Exit (also known as the Sagada Underground River Entrance). The underground river is part of a complex network inside the cave systems of Sagada.
Sumaguing and Lumiang Cave
This cave connection provides a spelunking experience to both first-timers and experienced tourists. The Sumaguing Cave is the most visited in Sagada. It has a depth of 500 feet, and travelers will experience physical activities inside the cave, such as rappelling. If you want to step up your adventure, you can avail of the Lumiang-Sumaguing Cave connection, which features a 4-5 hour spelunking experience inside the depths of Sagada.
Kiltepan Pog-o
Kiltepan sits in the eastern part of Sagada. This tourist spot offers sunrise viewing and a sea of clouds. This attraction offers a picturesque experience in Sagada.
Other Sagada Tourist Attractions
The Sagada Tourism Office also offers the following tourist attractions depending on your travel needs:
Nabas-Ang to Ampacao Trail: A 4-5 hour hiking tour through the grasslands of Sagada with a rewarding sunset viewing at Mount Ampacao.
Pongas Falls: A 2-4 hour hike in the southern part of Sagada, which ends with the fantastic cascading waterfalls.
Balangagan Cave: This tourist spot offers an easy spelunking experience for tourists and provides a glimpse of the cave burial site of the locals of Sagada.
Marlboro Hills to Blue Soil Trail: This trail offers another place for the sea of clouds and sunrise viewing, similar to Kiltepan Peak. The trail also passes to the peculiar blue soil located around the area.
Kapay-Aw Farms (currently suspended): This tour visits Sagada's agricultural sector, offering visitors a taste of their coffee beans, produce, and crops.
Where to Stay in Sagada
As mentioned earlier, visitors must book a DOT-accredited accommodation online or by contacting the place directly before registering to Sagada's online travel portal. We recommend booking a lodge or homestay in the Central Town of Sagada for easier access to tourist spots. Here are our recommended places to stay in Sagada:
Bosaing's Place
Bosaing is a lovely homestay in Central Sagada. It is less than a kilometer from the main town center and provides a cozy and relaxing stay after your adventures. The owners are friendly and accommodating; it feels like you are part of a family. You can contact Bosaing's Place at +639154922193 or visit their Facebook Page.
Lodge Labanet
This mountain lodge is in the main town of Sagada and offers a more traditional lodging experience with check-in counters and a breakfast/restaurant on the ground floor. Labanet also has more accommodation options, especially for tourists in big groups. You can contact Lodge Labanet at +639209483133 or send an email at lodgelabanet@gmail.com
You can also check our travel partners from Agoda for accommodation deals and discounts at Sagada.
Sagada Itinerary
Building an itinerary is essential for every trip. Hence, here's our sample Sagada Itinerary. Please note that the Sagada Local Tourism Office does not accept day tours in their municipality. You must stay in their place for at least one night per policy.
Sagada Itinerary: 2 Days and 1 Night
This 2-day and 1-night itinerary will provide a taste of Sagada adventure with meaningful visits to their historical sites.
| | |
| --- | --- |
| Day 1 / Time | Activities |
| 1100H – 1200H | ETA and early check-in to chosen accommodation. |
| 1200H – 1300H | Lunch Time |
| 1330H – 1600H | Sumaguing Cave Spelunking |
| 1630H – 1800H | Tour around the town proper |
| 1800H onwards | Dinner and recovery |
Day 2 / Time
Activities

0400H

Early Wake Up

0500H – 0600H

Marlboro Hills Sunrise Viewing and Sea of Clouds or

Kiltepan Pog-o Sunrise Viewing

0800H – 1000H

Paytokan Walking Tour

(Church of St. Mary the Virgin, Echo Valley, and Hanging Coffins)

1100H

Hotel check-out
Sagada Itinerary: 3 Days and 2 Nights
This 3-day and 2-night itinerary offers more adventure and exploration of Sagada Tourist Spots. We will start with a relaxed walking tour at the Echo Valley, exiting at Matangkib. Then, we will dive into more hiking tours for the most picturesque experience in Sagada.
Day 1 / Time
Activities

1100H – 1200H

ETA and early check-in to chosen accommodation.

1200H – 1300H

Lunch Time

1400H – 1700H

Paytokan Walking Tour

(Church of St. Mary the Virgin, Echo Valley, and Hanging Coffins) + Matangkib Exit

1700H – 1800H

Tour around the town proper

1800H onwards

Dinner and recovery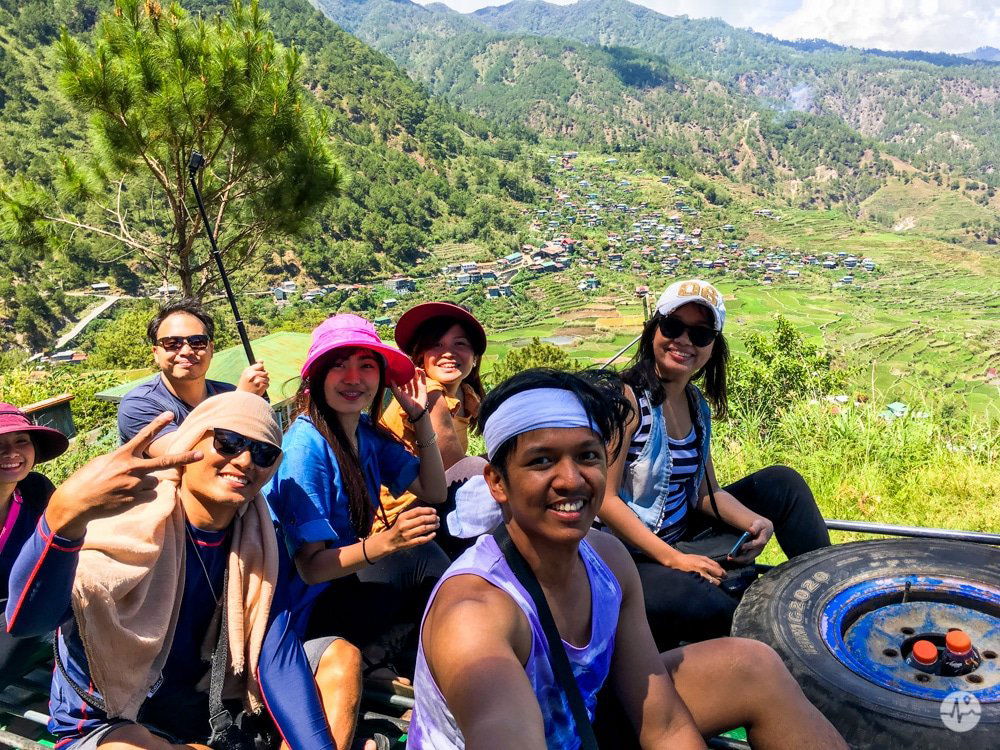 Day 3 / Time
Activities

0400H

Early Wake Up

0500H – 0600H

Marlboro Hills

Sunrise Viewing and Sea of Clouds

or Kiltepan Pog-o Sunrise Viewing

0800H – 1000H

Tour around town to buy souvenirs and other items.

1100H

Hotel check-out
How to Book Tour Packages in Sagada
There are several local tour guide associations accredited by Sagada's local tourism office that offer tour arrangements, shuttle services, and a tour guide. We recommend contacting these tour guides for travel arrangements to prevent problems during your trip.
| | |
| --- | --- |
| Association | Contact Person and Details |
| SAGGAS (Sagada Genuine Guides Association) | Yakie Tumbaga: 906-0249-929 and 929-3966-447 |
| SEGA (Sagada Environmentalist Guides Association) | Noel Agnapan and Hyner Pangoden: 968-2627-011 and 997-7366-418 |
| SETGO (Sagada Ethnos Tour Guides Organization) | Josephine Dangkiw: 919-2228-182 / 930-0238-188 / 975-5851-068 |
| ASSETG (Association of Southern Sagada Environmental Tour Guides) | Joey Taltala: 912-1844-915 |
| KIGA (Kiltepan Guides Association) for Marlboro and Blue Soil Tours | Marjorie Culbengan: 916-5057-278 |
| BFTAMPGA (Bangaan Fidelisan Tanulong Aguid Madongo Pide Guides Association) for Bomod-ok Falls and Fidelisan Village Tours | Aubrey Rose Doyog: 935-3538-169 and 905-8832-870 |
Sagada Travel Agencies
If you don't like to do a DIY travel plan, you can also inquire about these travel agencies permitted to operate in Sagada. In my experience, my friends and I had great customer service with Opti Travel Philippines. Here are some of the accredited travel agencies in Sagada:
Travel Tips to Sagada
Here are essential travel tips that you need to know before visiting Sagada:
Follow the rules and policies implemented by the Sagada Local Tourism Office.

Book accommodation first before registering on their online travel portal. Your chosen accommodation will provide a registration code, which you will use during sign-up in Sagada's online travel portal.

Contact the tour guides association for tour arrangements.

Bring hiking gear (hydration packs, first-aid kits, hiking shoes, and proper clothing) because Sagada is all about adventures!

Bring a camera because you will have a lot of memorable moments in Sagada.

Respect the culture and tradition of Sagada.

Do not throw any trash! Let's keep Sagada clean!
Summary: Sagada Tourist Spots
In wrapping up our Ultimate Travel Guide to Sagada, we've explored an array of incredible Sagada Tourist Spots that will leave you with memories to cherish. With our suggested Sagada Itinerary, you can embark on a journey to the Echo Valley, Hanging Coffins, breathtaking rice terraces, Sumaguing Cave, and Bomod-Ok Falls. This charming destination invites travelers from all walks of life to experience the perfect blend of nature, culture, and adventure. So, pack your bags and let the magic of Sagada captivate your heart as you explore its wonders. Whether you're a nature enthusiast, an adventure seeker, or simply looking for a beautiful escape, Sagada has it all, just waiting for you to uncover its secrets and create your own unique stories. Discover the enchantment that makes Sagada a must-visit destination for travelers seeking something extraordinary.