One of my most memorable moments in Sagada was experiencing their sea of clouds. You can do this by visiting their high viewpoints, such as the Kiltepan View or Marlboro Hills. Whenever my friends and I visit Sagada, we always stop by Kiltepan View to witness the Sagada sea of clouds, which is one of our best experiences. In this article, I will discuss our experience and a travel guide to visiting these viewpoints.
Post Updated: October 11, 2023. The viewpoint at the peak of Mt. Kiltepan is currently closed. However, we added two options for the Sagada Sea of Clouds experience.
Where to Experience the Sagada Sea of Clouds
There are two options available for experiencing this natural phenomenon in Sagada. The first is through a hike to Marlboro Hills, and the second is through another hike to Kiltepan Pog-o viewpoint.
How to Book a Tour at Marlboro Hills or Kiltepan Pog-o
You must contact the Kiltepan Guides Association (KIGA) for tour arrangements to Marlboro Hills or Kiltepan Pog-o. You can reach them at 916-5057-278, and they will arrange a tour guide and shuttle service for your group. The tour package costs around PHP 2900 with 4-5 hours of hike. They also offer either a sunrise hike or a day hike. You can check other tour packages provided by the local tourism office here.
Sea of Clouds at Kiltepan View
After the fire incident happened in 2018, the Kiltepan Viewpoint is still closed to the public. Visiting this viewpoint was a memorable experience, and we respect the locals' decision to close Kiltepan indefinitely. As I mentioned, you can still experience the sea of clouds through the Marlboro Hills or Kiltepan Pog-o site. Nevertheless, here's our experience with the once-loved Kiltepan View.
Going Up to Kiltepan View
Kiltepan View, also known as Kiltepan Peak or Kiltepan View Deck, sits on the eastern side of Sagada. It's a place filled with tall pine trees and offers a perfect spot to watch the sunrise in the morning. We visited Sagada during the summer when the weather was comfortably cold at night but got quite hot around noon. We had to wake up at 4:00 AM to catch the sunrise at Kiltepan View, which was a challenge because the cold made us want to stay in bed. After getting ready for the day, we left our lodge and hopped on a jeep to reach Kiltepan View. The road started smoothly but became rough and bumpy as we got closer to our destination.
At Kiltepan Peak
We reached Kiltepan View at about 4:30 AM, already bustling with people. The entire area was surrounded by small shops and food stalls offering hot beverages and hearty breakfast options for those seeking an early morning treat. While eagerly awaiting the sunrise, I indulged in a comforting bowl of champorado, a Filipino chocolate rice porridge made with milk and sugar. The warm, sweet porridge provided the perfect energy boost to kickstart my day.
Around 4:45 AM, a crowd gathered near the cliffs at Kiltepan View. Since this was my second visit, I knew exactly where to position myself for the best view of the stunning sunrise. My friends and I savored our steaming cups of coffee, exchanging stories and laughter as we eagerly anticipated the sun's ascent.
At 5:00 AM, the sun made its grand entrance. I could hear spontaneous applause from fellow tourists as the sun rose in majestic splendor. Its radiant rays stretched across the sky, creating a mesmerizing blend of yellow and blue hues. As the sunlight bathed the landscape, the mountainous terrain of Sagada gradually came into view, unveiling the province's slopes, forests, and rice terraces. The scene was like watching an artist's canvas being painted with bold and unpredictable brushstrokes as the entire place was bathed in glorious light.
During our time at Kiltepan View, we snapped numerous photos to capture this breathtaking moment. It marked my very first experience witnessing such a magnificent sunrise in Sagada. The last time I visited, the weather had been rainy, shrouding the entire vista in thick fog and clouds.
The Best Time to Visit Kiltepan View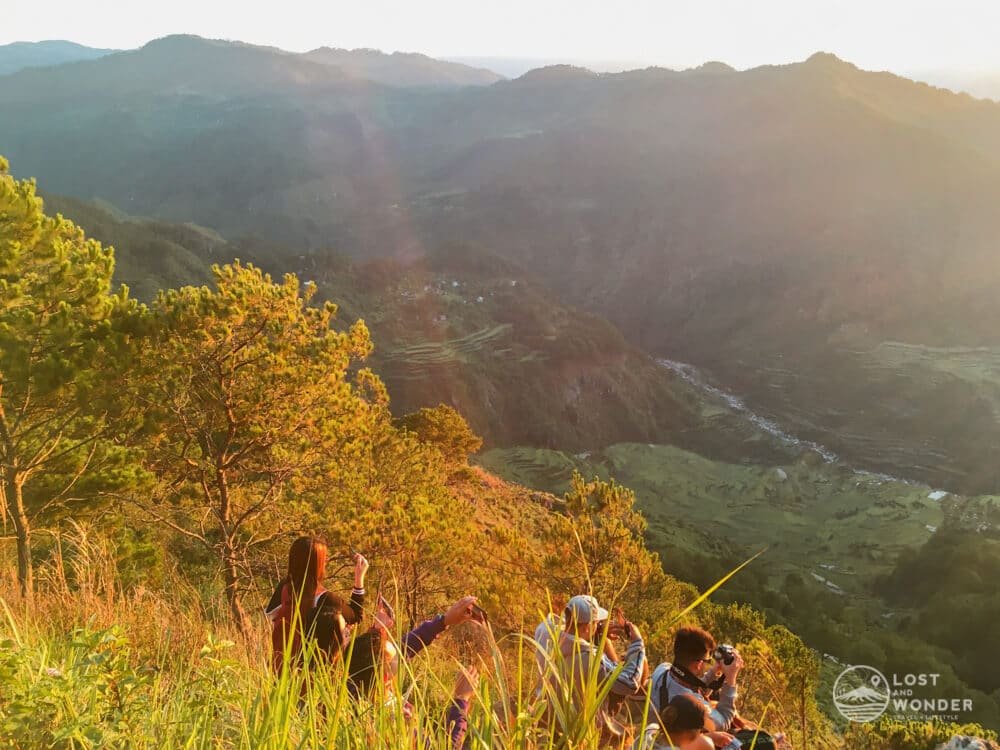 I've been lucky enough to visit Sagada twice, and based on my experiences, I'd recommend visiting during the summer months, specifically April, May, and June. During this time, there tends to be less rainfall, and the skies are generally clearer compared to other months. During my first visit, it was rainy, and unfortunately, we missed out on the chance to witness the stunning sunrise at Kiltepan View. The entire vista was veiled in thick fog and a sea of clouds, which somewhat dampened our enjoyment of the place.
However, the weather was much more favorable on my most recent trip. The skies were clear, and the area was drier. It was a special moment for me as I saw the majestic sunrise at Kiltepan View for the first time. This second visit to the place made all the difference and was truly worth it.
Summary
If your friends and family plan a trip to the Mountain Province, contact KIGA and add the sunrise viewing and Sagada Sea of Clouds experience to your itinerary. Watching the sunrise from one of the highest peaks in Sagada is an unforgettable and exhilarating experience. It's even more magical when shared with a loved one, accompanied by a cup of steaming coffee. Make the journey to Sagada and immerse yourself in its breathtaking beauty and captivating wonders.
---
This post was originally published on June 30, 2018, and was updated on October 11, 2023.