Who doesn't love Sagada? It offers beautiful mountain range, a cool weather, towering pine trees, endless verdant landscape, fresh air, rice terraces and many more which can truly mend someone's heart and soul. There's something about traveling in the mountains which make me feel comfortable. Aside from these, I also love the hospitality of the Igorots which made us feel at home.
I went to Sagada earlier this year together with my friends and our trip was coordinated by OptiTravels Philippines. During our three-day vacation, we stayed on a cozy homestay of Bosaing's Place.
Your Home in Sagada
This is their tagline posted in their Facebook account, "your home in Sagada", and it simply reflects their quality of service given to their guests. I myself experienced it and I truly felt at home in this wonderful place.
The homestay is located along Staunton Road just beside Mapiya-aw Pension. The location is perfect because it is only a kilometer away from the main town and its vicinity is surrounded with nearby tourist attractions such as the Kiltepan peak and Echo Valley.
Upon arriving in the place, I immediately fell in love with its homey vibe and endearing atmosphere. In the ground floor of the house, a fireplace sits parallel to the main entrance giving warmth to its guests. The flooring is made of tiles and the whole house is embellished with various woodwork with indigenous Cordillera art.
Our room is located in the ground floor where all the necessities are found like the living room with a fireplace, kitchen and, dining area for the guests. More rooms are also available on the second and third story and each floor has a balcony overseeing the other houses in Sagada. Their shared bathrooms are also neat and tidy with an available hot/cold shower.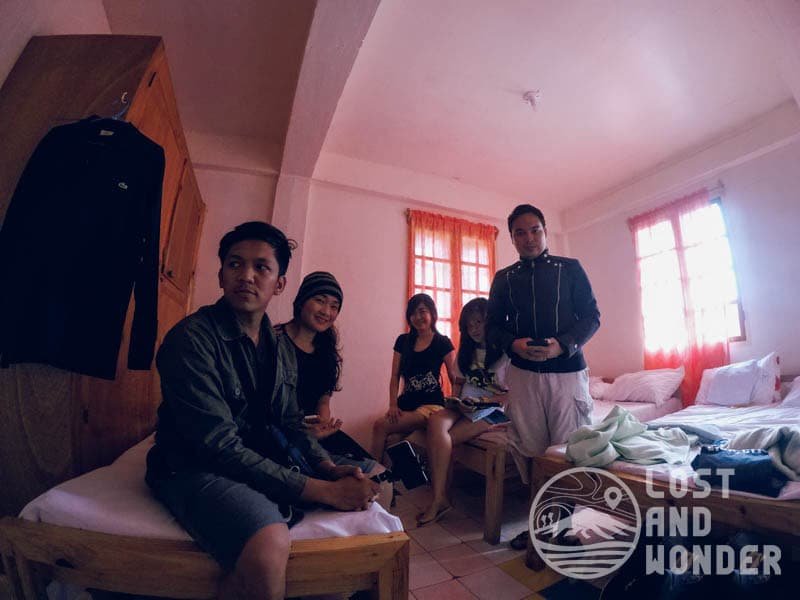 Our room is able to accommodate five people. Since we were five in a group, we accommodated this spacious room. The beds are also made of wood complete with pillows and blankets to cover yourself from the cool environment. Electric sockets are also available so you can charge your digital devices. The network signal on the other hand is weak but I don't mind it after all. I preferred to stay disconnected in the internet during my travels to free myself of stress from information overload.
The two windows are enough to ventilate our room and a wooden cabinet is also available for safekeeping of our belongings.
Truly, this is your home in Sagada. During our mealtime in the dining area, we were able to share stories with the owner and play with their kids, Harley and Thor both less than five years of age.
We even had bonfire activity outside the house after dinner and played fun games together with the other travelers.  At night, we acquainted with the locals with a bottle of beer and shared amazing conversations while savoring the warmth emitted from the fireplace. I think it is not just your home in Sagada, it is your family. I felt like I am staying in a house of a close relative rather than being felt like an ordinary visitor.
If ever I'm going to visit Sagada one more time, I will definitely stay in Bosaing's Place again. For a short span of time, the people behind Bosaing's Place gave us an unforgettable experience of Igorot hospitality and a place to stay like home.
---

Bosaing's Place General Information
If you are looking for a great place to stay in Sagada, then try this amazing lodge. It is located along Staunton Road and the entrance going to Mapiya-aw Pensione is also the same entrance going to Bosaing's Place. (Check the map below)
[googlemaps https://www.google.com/maps/embed?pb=!1m18!1m12!1m3!1d2696.6736534048296!2d120.90699064945763!3d17.088667133507613!2m3!1f0!2f0!3f0!3m2!1i1024!2i768!4f13.1!3m3!1m2!1s0x0%3A0x4b3cb2895a3ff9e2!2sBosaing+Lodge!5e0!3m2!1sen!2sph!4v1503321815022&w=800&h=600]
Here's their contact number for more information about their price and to make any reservations: +639154922193. You can also add their Facebook Account at https://www.facebook.com/harleythor.bosaing
Sagada Adventure Series
Check out other travel stories and guides in Sagada:
---
Do you think this is a great homestay in Sagada? Then share it to your friends now! 🙂