Visiting Sagada will never be complete without watching the beautiful sunrise and sea of clouds in Kiltepan View. It's a popular tourist spot in Sagada wherein travelers will have a chance to experience the beautiful morning in the municipality. This place became famous because of the hit Filipino movie "That Thing Called Tadhana". I visited this place twice and here's our travel guide and experience of Kiltepan View. (Updated: November 2, 2020)
New Normal Guidelines and Updates in Kiltepan View Sagada
As of November 2, 2020: All tourism activities in Sagada are still suspended until further notice according to Sagada Tourism Office. For now, feel free to read this blog post and save it for future reference. Stay safe everyone!
Kiltepan View Experience
Going Up to Kiltepan View
Kiltepan View (also known as Kiltepan Peak or Kiltepan View Deck) is located at the eastern side of Sagada. It's place is populated with pine trees and its peak is a perfect spot in viewing sunrise in the morning.
It was summer when we visited Sagada. The climate is comfortably cold at night but a little bit sweltering during noon time. We woke up at around 4:00 in the morning for our Kiltepan View trip. It was really hard waking up that time since the cold environment was really inviting for us to sleep.
After preparing ourselves for the first part of the day, we went out of our lodge and took a jeep going to Kiltepan View. The road going to the place is smooth at first; however, the path becomes rough and bumpy as we reach the destination.
At Kiltepan Peak
We arrived in Kiltepan View at around 4:30 AM in the morning and the place is already crowded. The whole park is surrounded with mini stores and eateries selling hot beverages or warm meals for an early breakfast treat. While waiting for the sun to rise, I bought a bowl of champorado (Filipino term for chocolate rice porridge) mixed with milk and sugar. The warm porridge helped in jumpstarting my energy for the whole day.
At around 4:45 AM, the people gathered near the cliffs of Kiltepan View. Since this is my second time, I know the right spot where to view the beautiful sunrise. My friends and I enjoyed our warm coffee and shared stories together while waiting for the sun to rise.
At 5:00 AM, the sun finally showed up. I heard an applause from random tourists as the sun rose in glory. Its rays extended above the sky painting it with hues of yellow and blue. The mountainous topography of Sagada was revealed as sunlight illuminated the slopes, forests, and rice terraces of the province. The panorama is like a canvass being drawn with random brushstrokes as the whole place is shrouded with light.
We took a number of photos during our stay in Kiltepan View and it was my first time to see the glorious sunrise in Sagada. It was rainy the last time I went here, hence the whole view is covered with fog and clouds.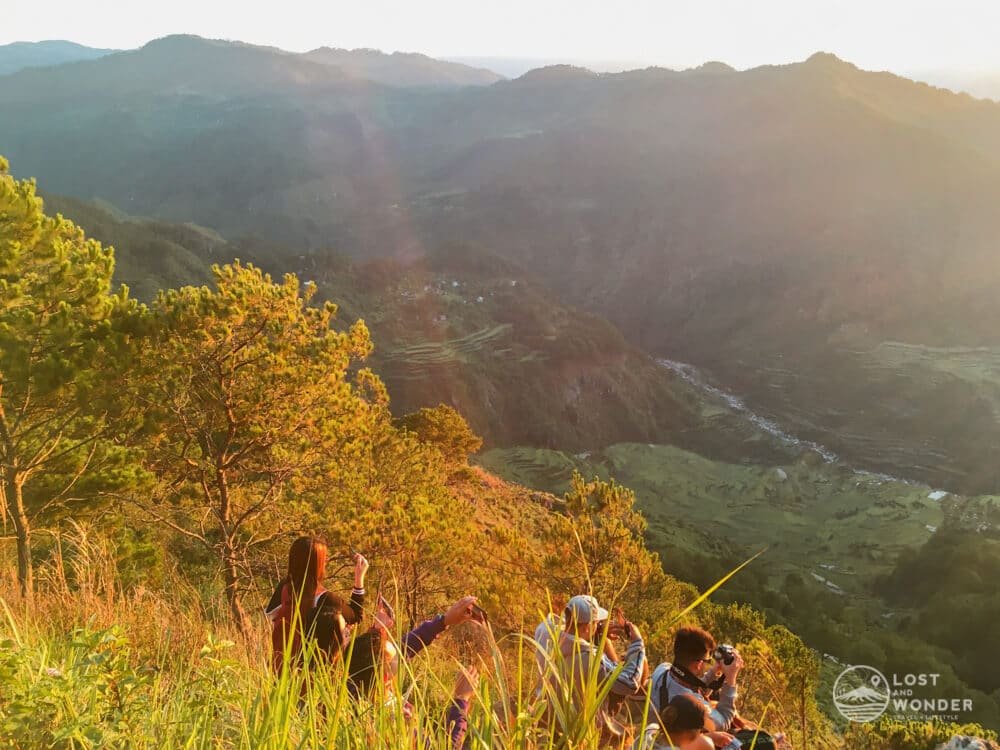 How to Go to Kiltepan Peak
For DIY travelers, you should first visit the Sagada Municipal Tourist Information Center located at the town proper. All Sagada Tours are governed by the local government. You can book for a transportation going to Kiltepan View at the information center. The transportation fee costs PHP 500/jeep for a 15-minute jeepney ride from town proper going to Kiltepan Viewdeck and back. The jeep will depart at 4:30 AM.
If you're a big group, you can pay PHP 50/pax for 11 visitors and more. The more pax per group, the lesser you will pay. Please take note that there are no entrance fee inside Kiltepan Viewpoint.
Travel and Tours Method. There are a lot of travel and tours company offering a complete Sagada tour. The good thing of availing a tour package is convenience. They will provide the transportation, the lodge for your stay, the itinerary for the whole trip, and sometimes complete meals all throughout the tour. However, the bad thing of availing a tour package is the price. You'll be paying for more for the convenience and less hassle experience of your trip.
If you're going to ask us which method is best, it all depends on your preference. If you want full control of your time and itinerary at a lesser expense, then go DIY. But if you are a big group who wants convenience at a higher price tag, then have a travel and tours company do all essential stuffs for you.
The Best Time to Visit Kiltepan View
I visited Sagada twice and I think the best season to visit this place is during the summer months (April, May, and June). There are less rains during this period and the sky is clearer than the other months.
It was rainy when I visited this place at the first time and we didn't have the chance to see the sunrise at Kiltepan View. The whole view was covered with thick fog and clouds which made our stay less enjoyable.
On my latest visit, the sky was clearer and the place was drier. It was my first time to see the majestic sunrise in Kiltepan View and the second trip to this place is all worth it.
Wrap Up
If your friends and family are planning for a trip in Sagada this summer, then you must include Kiltepan View in your itinerary. Viewing the sunrise on one of the high peaks of Mountain Province is truly memorable and ecstatic. It's even best viewed together with a cup of warm coffee and a love-one at your side. Visit Sagada and experience its beauty and wonders.
Sagada Adventure Series
Check out other travel stories and guides in Sagada:
---
Did you find this post informative? Share this to your friends and spread the love!