Visiting Kawasan Falls is the cream of the crop of our Southern Cebu Vacation. It is the ultimate adventure that every thrill-seeker is looking for. Exploring Kawasan Falls downstream from Alegria will lead you to a 5-kilometer stretch of pure adrenaline rush with changing terrains, natural pools, and crystal clear waters. You've been seeing this tourist spot everywhere in social media and now it's time for you to visit this place! Nevertheless, this is our comprehensive travel guide and experience in Kawasan Falls.
This post is updated on November 7, 2020. For your safety, we added the safety protocols and new guidelines from the local government of Cebu. Please take note of the updates and follow safety standards. Stay safe as always!
Take note that this travel guide is designed for travelers who wish to visit Kasawan Falls with or without canyoneering activity. Check out the table of contents below for easier access.
New Normal Guidelines and Updates in Kawasan Falls
As of November 7, 2020, tourism in some tourist attractions in Cebu has finally re-open for local residents within the province only. You can reserve a trip in Kawasan Falls through the local government's centralized booking site: https://discover.cebu.gov.ph/
Walk-in tourists are not allowed and you must book a reservation prior to your trip. This will help limit the number of tourists per day and promote safety during this time of the pandemic. For more information on safety, please visit the last section of this article.
Kawasan Falls Location
This amazing waterfall is located in the municipality of Badian in Southern Cebu. A bus ride from Cebu City to this place takes around 3 hours, depending on the traffic. Here are ways on how to visit Kawasan Falls:
How to go to Kawasan Falls From Cebu City
If you just arrived from Mactan International Airport, then take a taxi going to South Bus Terminal in Cebu City.
Once in South Bus Terminal, take a Ceres Bus going to Bato via Barili. This route will take you directly to Badian. Inform the driver that you will alight in Matutinao Beach Resort. Don't take the bus going to Bato via Oslob. This route will go to the South Eastern side of Cebu. It will make your travel time longer and less efficient.
Once you arrive in Matutinao Beach Resort, you will find the entrance going to Kawasan Falls in front of the beach resort. Check the map posted above to see the overview of the trip.
How to go to Kawasan Falls From Moalboal
If you are coming from the coastal town of Moalboal, then take a bus going south. These buses are going to Alegria, Samboan, and Santander. Inform the driver that you will alight in Matutinao Beach Resort. Once you arrive in Matutinao Beach Resort, you will find the entrance going to the falls in front of the resort.
How to go to Kawasan Falls From Oslob
If you are coming from Oslob, Cebu, then take a bus going south to Port of Bato. You will alight in a bus terminal in Santander. From the bus terminal in Santander, take another bus going back to Cebu City. Inform the driver that you will alight in Matutinao Beach Resort in Badian. You will find the entrance going to Kawasan Falls at the front of the resort. The entire travel time takes around an hour. Check the map above for reference.
How to go to Kawasan Falls from Manila
As of November 7, 2020, Cebu is currently not accepting international and domestic tourists. Please use this information for future reference.
From Metro Manila, take a flight in Ninoy Aquino International Airport (NAIA) going to Mactan International Airport in Cebu.
Once you arrive in Mactan International Airport, take a taxi going to South Bus Terminal.
Afterwards, take a Ceres Bus going to Bato via Barili. Inform the driver that you will alight in Matutinao Beach Resort in Badian. Travel time is around 3 hours, depending on the traffic.
How We Visited the Place
Since we came from our seaside inn in Moalboal, we took a tricycle from Moalboal going to Matutinao Beach Resort in Badian. Our fare only costs PHP 30 (USD 0.60) per person. Travel time took less than 30 minutes.
---
Kawasan Falls History
The island of Cebu is gifted with hundreds of beautiful waterfalls and Kawasan Falls is the most popular of them all. This waterfall is part of the Matutinao River which exits to the Tañon Strait (the sea between the islands of Cebu and Negros.)
It is said that the locals of Badian discovered this majestic waterfalls years back. Twenty years ago, when tourism was booming in the diving town of Moalboal, a group of locals and foreigners started exploring the mountains in Matutinao River for the purpose of adding a tourist attraction in the place. They discovered the beautiful canyons upstream of Kawasan Falls! As a result, the foreigners introduced an activity known as 'canyoning'.
---
Two Ways to Explore
This travel guide will present two-ways to explore Kawasan Falls since not everyone doesn't like to do the extreme canyoneering activity. Today, there are two ways to explore this waterfalls; casual and downstream canyoneering.
Casual Visit (No Canyoneering)
A casual trip is relaxing wherein you will just visit the waterfalls from the main entrance in Santander-Barili-Toledo road. From this main entrance, you will walk at least 20 minutes upstream until you reach the waterfalls. You can enjoy a day trip in the area and spend quality time with your friends and family in this place. It's perfect for those who are not into risky adventures and it's a more chill approach. Here are some important things that you need to know:
| | |
| --- | --- |
| Question | Answer |
| We bought our car for the trip. Is there a parking lot in the area? | Yes. There is a church (named Matutinao Church or Sto. Tomas De Villanueva Parish) besides the entrance going to Kawasan Falls. You can park your vehicle here and the parking fee is PHP 50 (USD 1). |
| Is there an entrance fee going to Kawasan Falls? | Yes. Entrance fee costs PHP 45/person. |
| Are there any place where we can change clothes? | Yes. There are available change rooms in the area. |
| Do they have lockers in the area so we can secure our bags? | I think it's NOT ideal to bring big bags in this area. Although, there are lockers available in the place and it cost PHP 150 (USD 3). But we recommend to bring only your important things and stuff them inside a small waterproof bag. |
| Is there a guide we can hire in the area? | Yes. There are a lot of guides in the area and I think hiring one will make your visit more seamless. Guide Fee usually costs PHP 200 for a group of 4. On the other hand, it's also a way of helping the locals of Badian. |
The Three Levels of Kawasan Falls
This waterfall has three levels. The first level is the most iconic but also the most crowded. It features a spacious swimming area of cool turquoise water and places to gather for social activities. You can rent a table for PHP 300 (USD 6) and life jackets for PHP 50 (USD 1) which is required if you want to swim.
In addition, the second level features a 50-ft cliff jump, a spacious but deep plunge pool, and less visitors. In between the second and third level, you will discover a dam which I think is the most Instagrammed-spot in the area. Finally, the third level, offers another natural swimming pool but with the least visitors.
Can you see the formula here? The higher the level, the less the visitors are. My favorite level for me is the second level and I will tell you why later on.
---
Kawasan Canyoneering
For me, visiting Kawasan Falls alone is not enough. In order to have the complete experience, we recommend doing the extreme Kawasan Canyoneering. It is the ultimate adventure that you can have in Southern Cebu. Like what I said earlier, it is our cream of the crop. It is the cherry and icing on top of our cake and this activity is perfect for thrill-seekers like us. I will share with you our complete DIY travel guide for this activity.
What is the meaning of Canyoneering?
Canyoneering or canyoning is a sport or activity which involves exploring canyons by rappelling, rafting, waterfall jumping, and hiking. It is a physically demanding activity yet fun at the same time.
Choosing the Right Tour Guide
This activity is very popular in Kawasan Falls. It's so popular that many tour guides and packages has sprung out like mushrooms in Badian. In fact, once you reach Badian, you will see a handful of tour companies offering canyoneering activity at the side of the main highway. But I will help you choose the right tour group; and that's Kawasan Canyoneering.
Kawasan Canyoneering is stationed at the left side of the main highway if you're coming from Badian Town Proper. If you want to know how to get here, just follow the directions I presented earlier. Inform the driver that you will alight in front of Cruz-Phillips Restaurant and Lodging, and you will see the Kawasan Canyoneering Headquarters on the left side. Check the map below for reference:
Why did we choose this group? Simply because, Kawasan Canyoneering is the pioneer group who introduced this activity for local and international travelers. They are also the most awarded and internationally recognized touring group in Badian. Kawasan Canyoneering has been doing this for almost 5 years now which makes them the most trusted group in the area.
Kawasan Canyoneering Price
The price of the whole package tour costs PHP 1,500 (USD 30) per person for a group of 4. This price usually goes down for bigger groups like PHP 1,300 (USD 26) per person for a group of 8. The package includes the following:
Guide fee
Transportation fee from Badian going to Alegria
Safety gear such as life jackets and helmets
Snacks and bottled water
Canyoneering activity from Alegria to Kawasan Falls in Badian and;
A sumptuous lunch at the end of the activity!
Our Kawasan Canyoneering Adventure
This part of the post will showcase our review, experience, and things that you need to know about Kawasan Canyoneering. Read on and you will surely get excited to visit this marvelous place!
Before the Adventure
After signing up for the activity inside the headquarters of Kawasan Canyoneering, you will be introduced to your tour guide. The guide will assist you in wearing your safety gear such as life jackets and helmets. You can also rent some important items like:
Aqua Shoes – PHP 100 per pair (USD 2)
Towels – PHP 50 (USD 1)
GoPro! – PHP 500 (USD 10)
In the photo above, our guide (Kuya Bernard) helped my friends in wearing their safety gear. On the other hand, our life vest contains some snacks and bottled water needed for the trip.
After which, you will take a habal-habal (motorcycle) ride from Matutinao Beach Resort going to Barangay Sulsugan Road in Alegria, Cebu. This is the starting point of your Kawasan Canyoneering adventure.
At the Starting Point

The map above illustrates the route of the whole canyoning activity. You can click the map pointers above to see its details. We started in the Barangay Sulsugan Office wherein we registered our names and attended a quick orientation. The officer told us that the whole canyoneering activity will take around 4-6 hours depending on our fitness level. He also reminded us of some safety precautions such as:
Following our guide all the time
Avoid throwing trash in the area
No vandalism, taking of wildlife, nor touching of stalagmites and stalactites, and;
No wearing of jewelries
In other words, leave but footprints, kill but time, take nothing but memories.
After our short orientation, we hiked the trail from the Barangay Office going to the entrance to Matutinao River. We hiked for less than 10 minutes before reaching the entrance.
Hiking to the entrance of Matutinao River is truly an eye feast. At the other side of the trail, we saw this beautiful mountain range covered with trees and vegetation. This is part of the Mantolongon Mountain Range where you can find the highest peak in Cebu which is the Osmena Peak.
Descent to Matutinao River
After 30 minutes of hike, we finally reached the entrance going to Matutinao River. There's a tarpaulin at the entrance which shows the reminders presented by the Barangay Officer earlier.
The environment transitioned from an open space into an enchanting forest as we took our descent. We can even hear the gush of flowing water from a river nearby. We can't see the canyons yet from this view because it was covered with towering trees and vegetation.
After 30 minutes of hike from Barangay Sulsugan, we finally reached the Matutinao River and its canyon. I was so amazed when I saw those beautiful rock formations. This is just the beginning and I am already pleased with the view. But, there's more to come!
The Downstream Canyoneering to Kawasan Falls
The water flowing in Matutinao River is crystal clear and freezing cold. During the hike, we scrambled across different canyons, boulders, and gigantic rocks. We swam into deep natural pools and jumped off cliffs and waterfalls. There are a lot of deep bodies of water in the area and that's why it is required to wear life vests during the trip. It's a 4-6 hour activity of pure adrenaline rush but the majestic view of nature relieves us of fatigue and tiredness.
Cliff and Waterfall Jumping
Aside from swimming and scrambling along the canyon, there are parts of the river wherein we need to jump. I suddenly remembered our guide in Aguinid Falls. He told us that the Aguinid Falls is just a quiz and the Kawasan Falls is the final exam! Well, he is right! Kawasan Canyoneering is indeed a big final exam!
There are a lot of cliffs and waterfalls for jumping in Kawasan Canyoneering. The height ranges from as low as 5 feet to 50 feet! The photo above is an example of a 30-ft cliff.
Now please take note that you are not required to jump these cliffs. If you have doubts, then do not jump. Inform your guide for an alternate route and he will show you where to go. But I think it will be a missed opportunity if you will not jump into these cliffs.
Before jumping, make sure to follow your guide's instructions because they know the right spot to jump. They will also instruct you of proper position before the jump to prevent any injuries. Basically, its like keeping your knees bent, arms hugging your shoulders, and keeping a straight stance during the jump.
Break Time in the Canyons
At the second half of our adventure, I was surprised to see these food stalls standing in the middle of the trail. When we reached this area, Kuya Bernard told us to take a break. Here, they offer barbecues, breads, and easy to digest foods for energy for the next adventure. My friends and I ordered some hotdogs and rice cakes. It's actually a nice experience and it's like a picnic in the middle of the forest.
After our quick break, we resumed our canyoneering activity!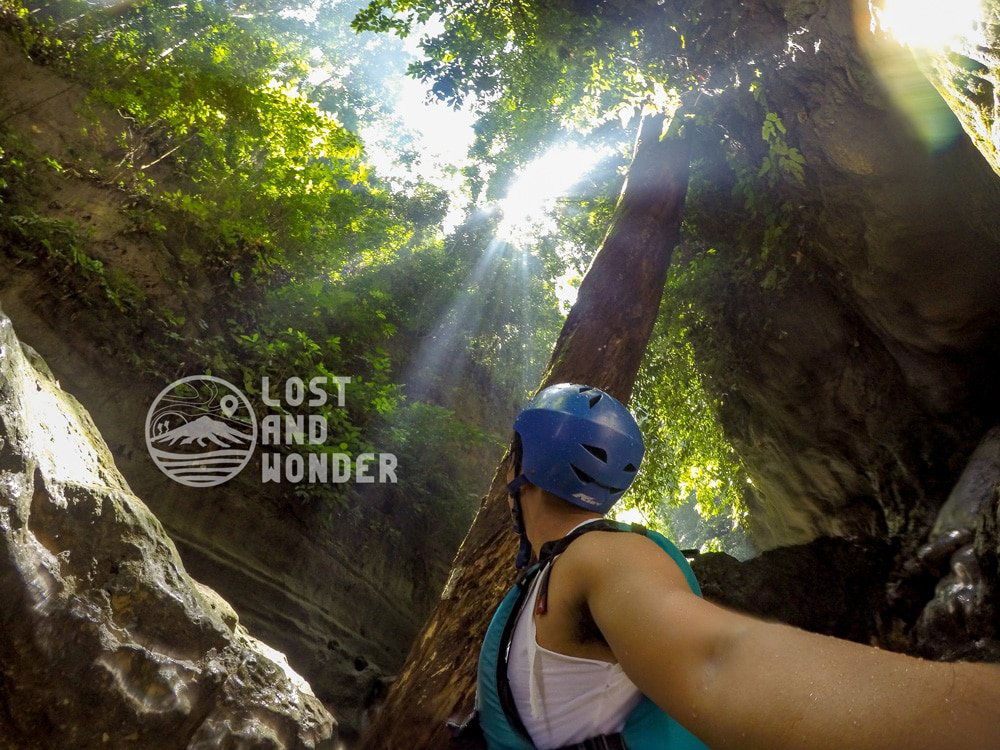 Reaching Kawasan Falls
After almost 5 hours of canyoneering, we finally reached the third level of Kawasan Falls! There's another spot for cliff jumping in this area but it was closed as depicted in the photo above. The officials closed this area for cliff jumping due to a log that fell a few weeks back. Kuya Bernard told us that it is unsafe to jump and we might hit the log in the middle.
Nevertheless, there's a man-made water slide at the end of the trail. Riding this water slide will take you to a natural pool at the third level of Kawasan Falls.
The Final 50-ft Jump
Update as of November 7, 2020: according to current safety protocols from the local government, visitors can only jump at a maximum height of 30-feet.
Our Kawasan Canyoneering Adventure concludes with a 50-ft waterfall jump. This spot is located at the second level of Kawasan Falls. That day, no one is trying to jump the cliff yet. When we reached the area, there's a group of foreigners who are attempting to jump the cliff. My friend Riza then said that she will go first! What a brave woman!
During this time, Kuya Bernard instructed Riza on where to jump. The foreigner guy at the back even told her that she is crazy. I think she's not crazy. She's super crazy!
On the count of three, Riza jumped without any hesitation! She jumped with grace and landed safely into the cool aqua water of Kawasan Falls. Take note, she's the first person to jump this cliff that day. Amazing isn't it?
Kuya Bernard told me that the plunge pool of Kawasan Falls is more than 40-ft deep. After this, we also jumped and followed Riza.
We Survive Kawasan Falls!
If I'm going to rate our experience in Kawasan Falls, then it will be off the charts. It is our most memorable trip ever in Southern Cebu. After this trip, I truly appreciate the wonders of nature. I felt humble and small because nature can do such amazing things yet there you are, a traveler, a witness of its might and glory. Canyoning in Kawasan is definitely worth it and you must do it!
We also commend our tour guide; Kuya Bernard of Kawasan Canyoneering PH. He's a very jolly and patient man, and he always look unto us during the trip. Also, our safety is his top priority which makes our Kawasan Canyoneering experience fun and memorable. He's also good in taking pictures! Most photos in this article are shot by Kuya Bernard. Our words of gratitude will never be enough to compensate for his great service to us. After this, we walked back to the headquarters and enjoyed a recovery lunch (which is included in the package.)
---
New Normal Guidelines and Other Info (2020 Update)
What to Expect during Canyoneering?
The current COVID-19 pandemic has affected tourism all over the country and the province of Cebu is one of the prime locations to visit. As of November 7, 2020, the local government of Cebu has decided to re-open Kawasan Falls for local residents within the province. If you are from Cebu and you are planning to visit Kawasan Falls, here's the up-to-date protocols and safety guidelines for canyoneering activity:
Canyoneering is operation time is from 6AM to 3PM only
Groups are composed of max of 5 tourists and 2 local guides.
Strict physical distancing is observed between groups with 7-minute intervals
Only 300 persons per day are allowed in the Kawasan Falls and canyoneering area
Visitors must wear proper gear (helmet, life vests, canyoneering shoes) AT ALL TIMES.
Gears and equipment that are rented will be properly sanitized at the end of the activity
To see the complete guidelines, please click here: Executive Order 20-A Guidelines to Govern Tourism-Related Activities in Cebu
Best Time to Visit Kawasan Falls
It is recommended to visit Kawasan Falls during the summer months. Summer runs from March to early June in the Philippines. During this time, the weather is dryer and there's less rainfall. It is unsafe to do canyoneering activity during the typhoon season in the Philippines which is every August to November.
Best Time to do Canyoneering in Kawasan Falls
We recommend doing the canyoneering in the morning. We started our canyoning adventure at 8:00 AM. The whole activity is good for 4-5 hours and we finished at around noon time. Most touring companies do not accept visitors for canyoning after 2:00 PM for safety purposes.
Recommended Tour Company (Not Available)
This portion is currently unavailable to tourists as of November 7, 2020. The local government recommends using their centralized reservation website (https://discover.cebu.gov.ph/) in booking trips to Kawasan Falls.
We recommend Kawasan Canyoneering PH for your Kawasan Adventure. Their new headquarters is located at the left side of the highway if you're coming from Badian Town Proper. Please check the map above for guide. You can call these numbers for reservation: +63-918-654-4111 or +63-905-333-2623. You can also visit their Facebook Page at https://www.facebook.com/kawasncanyoneering/
They also offer package tours and round trip transportation to and fro the Mactan International Airport for your convenience. Visit their Facebook page or call them for inquiries.
Kawasan Falls Itinerary
There are so many ways to schedule your trip to Kawasan Falls. Visiting this place in the morning is recommended because it will give you an ample amount of time to enjoy and explore the area. Here's our suggested itinerary:
| | |
| --- | --- |
| Time | Activity |
| 0600H-0730H | Wake up. Prepare. Breakfast. |
| 0730H-0800H | Go to Kawasan Canyoneering Headquarters in Badian, Cebu. |
| 0800H-1300H | Kawasan Canyoneering! |
| 1300H-1400H | Lunch at the headquarters |
| 1400H-1600H | Chill and stay at the falls |
| 1600H | Back to accommodation to relax |
---
Lost and Wonder's Southern Cebu Adventure Blog
---
Did you find this travel guide helpful? Then, support our blog by sharing this post with your friends and loved ones! Make sure to include this amazing place in your Southern Cebu Adventure. For questions, just leave a comment below or send me an email at blainechrian@lostandwonder.com. This post was originally posted on October 10, 2019 and is updated on November 7, 2020.
Tara! Byahe ulit Tayo! Let's get Lost and Wonder!
Tag your travel photos with #LostandWonder