The Baguio Night Market in Harrison Road brings life and color in the city after sundown where hundreds of tourists flock the street to buy goods and locally-made products. You can purchase a nice quality jacket for only PHP 50 (Around USD 1.00)! Amazing right? The trick here is patience and timing. Here's our quick guide and experience of Baguio Night Market. (Post Updated: November 6, 2019)
Complete Your Baguio Vacation
Check out our most comprehensive travel guide in Baguio City. This post contains places to visit, recommended restaurants and hotels to stay, and itineraries! Click the link to learn more: Baguio Itinerary 2019.
At evening, a portion of Harrison Road becomes inaccessible to both public and private vehicles. Vendors and merchants assemble their shops, and lay their products in preparation for another busy night. As the clock ticks at 9:00 PM, the lively night begins. I travel up north almost every quarter of the year to this mountainous city and the night market is consistently present in our itinerary.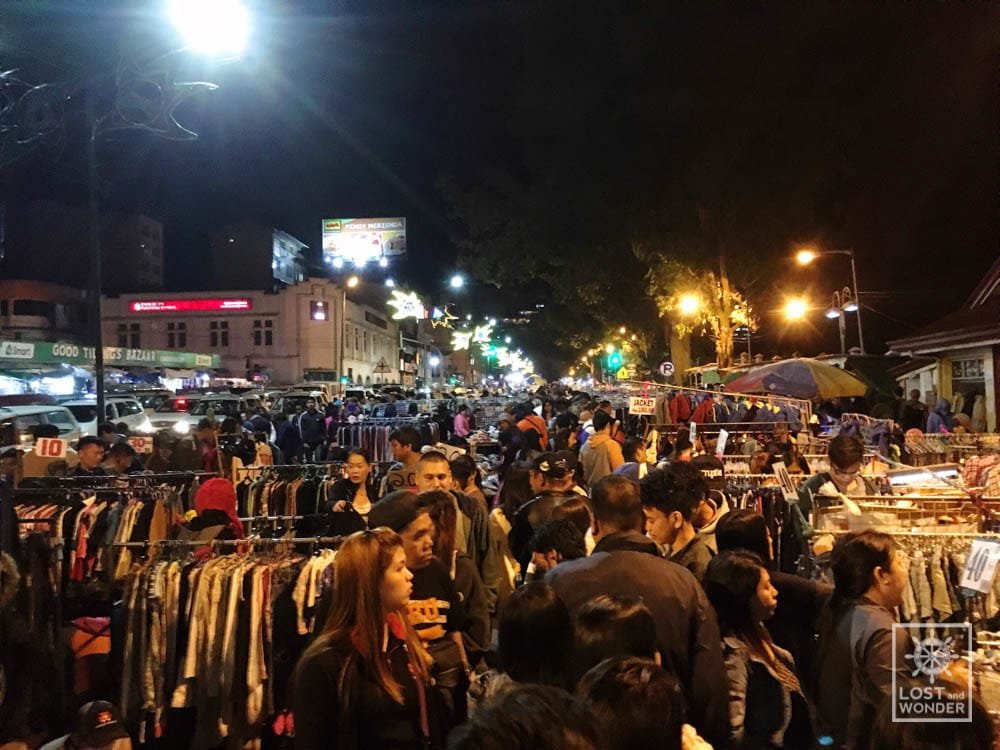 There are hundreds of stores, locally known as "ukay-ukay", that can be found in Baguio Night Market. Ukay-ukay is popular in the Philippines and it contains secondhand products and quality items sold at a very low price. Many people visit this place every night because of its affordability and wide range of choices.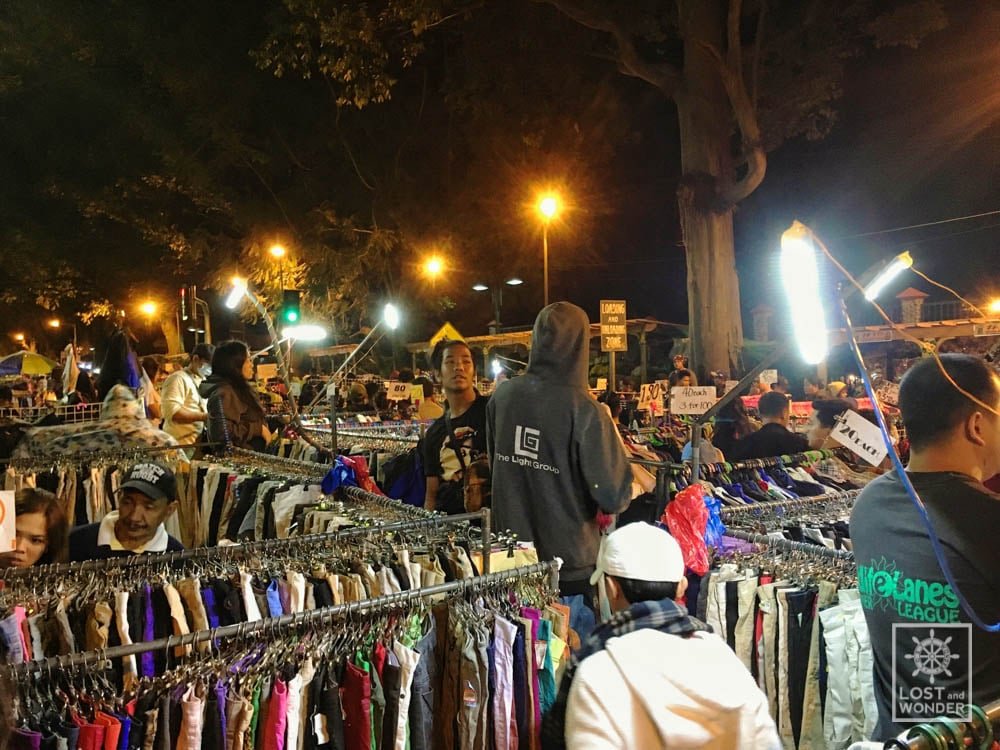 What to Expect?
There are myriad of items to buy in Baguio Night Market and it never fails to attract customers and travelers. Products offered here ranges from bags, footwear, clothing, and digital accessories. There are also souvenir items that you can buy in this place, even kitchenware too.
Leo and I always travel to Baguio Night Market every year. As expected, the whole lane reserved for the market were clogged with people, making the atmosphere festive and vibrant.
We bought caps for ourselves, and scarfs as gift to my aunt and mama. The scarfs we bought were indigenous products from Sagada, Mountain Province. It is weaved meticulously with beautiful geometric patterns reflecting a native Cordillera design; we bought these scarfs for only PHP 100 each (Around USD 2.00). Since there are a lot of people in this place, you should be mindful of your personal items, such as your bags and wallets, for safety purposes.
Overall, the experience in this place are both fun and exciting. Your eyes will surely be awash with colorful items and stuffs, and have great finds in this place.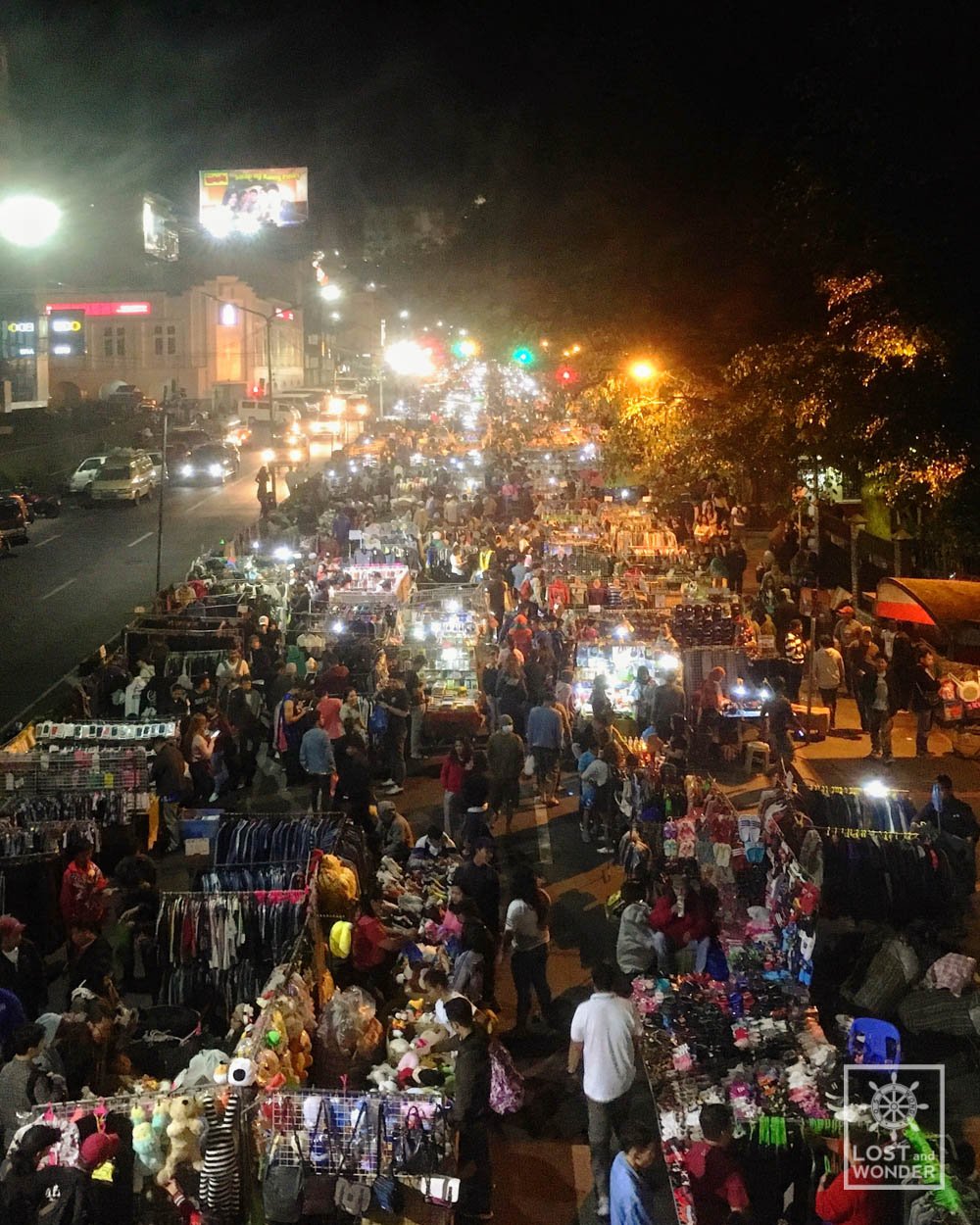 Baguio Night Market Schedule: When to Visit?
Baguio Night Market is always open for 5 hours every night starting from 9:00 PM to 2:00 AM (Update as of November 6, 2019). It is located in Harrison Road just beside the Burnham Park Football field. Whenever you're going to visit the city of Pines for a quick or long break, then don't miss out visiting this marketplace.
Baguio Night Market: Quick Details
Address: Harrison Road, Baguio City, Benguet, Philippines
Hours: Everyday from 9PM to 2AM
---
Sharing is caring guys 🙂 Feel free to share this post to your friends 🙂 This post is updated: November 6, 2019.