Even with the ongoing pandemic, the Baguio Night Market in Harrison Road continuously brings life and shine to the mountaintop city after sundown. After a year of hiatus, this night market in Baguio City is finally open, offering hundreds to thousands of locally-made items which every shopper will genuinely love. Our team visited this place on the last week of November 2021, and here's our quick guide and experience.
Current Update for Baguio Night Market
Baguio Night Market Schedule 2021
The Baguio Night Market is open every day from 9 PM to 11 PM. You can visit this famous tourist spot beside the football field of Burnham Park in Harrison Road. We advise our readers to respect and follow the health protocols and guidelines of Baguio City.
What to Expect?
Preparation
In the evening, a portion of Harrison Road becomes inaccessible to both public and private vehicles. Vendors and merchants assemble their shops and lay their products in preparation for another busy night. As the clock ticks at 9:00 PM, the lively night begins. Our team regularly visits this place every time we come up to Baguio City, and we always have an enjoyable shopping experience.
Hundreds of Stores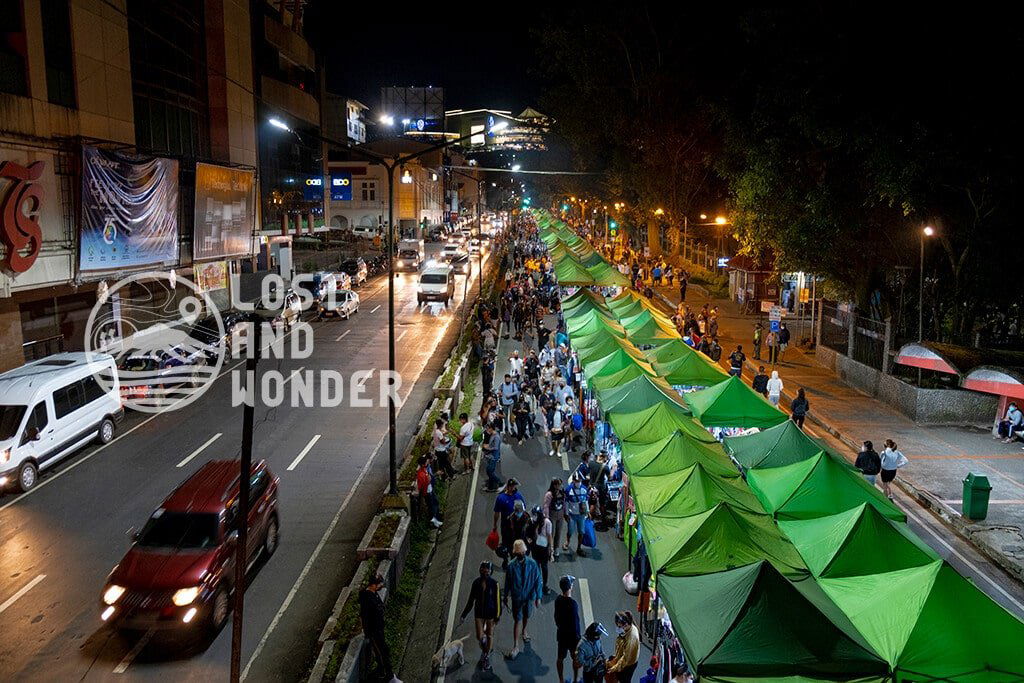 Hundreds of stores, locally known as "ukay-ukay," are found in Baguio Night Market. Ukay-ukay is popular in the Philippines, and it contains primarily secondhand products or quality items sold at a meager price. Many people visit this place every night because of its affordability and wide range of choices.
There are various items to buy in Baguio Night Market, and it never fails to attract customers and travelers. Products offered here range from bags, footwear, clothing, jewelry, kitchenware, and digital accessories. Moreover, there are souvenir items that you can also buy in this place.
Affordability
Another thing that people love about Baguio Night Market is its affordability. We bought some bonnets (beanies) for ourselves, and some scarves as gifts for our friends. The scarves we bought were indigenous products from Sagada, Mountain Province. It is weaved meticulously with beautiful geometric patterns reflecting a native Cordillera design; we bought these scarfs for only PHP 100 each (Around USD 2.00)! Now that's a great deal!
Hangry? No Problem
After spending hours shopping at Baguio Night Market, your tummy would start to growl, and you will feel hungry. No worries, because there's a lot of food stalls available in this place. They have burgers, barbeques, cold drinks, and many more. You deserve some good food after those hours of walking.
Following Safety Protocols
Even with the ongoing pandemic, the tourists and vendors in the city strictly follow the health guidelines and protocols. We also noticed signs posted around the market reminding everybody to practice social distancing. Therefore, we felt safe during our visit since everyone was following the protocols of Baguio City. However, since there are a lot of people in this place, you should be mindful of your personal items, such as your bags and wallets, for security purposes.
Summary
Even with the ongoing pandemic, this night market in Baguio City never fails to impress shoppers and travelers. Tourists around the country visit this place because of its affordability and the myriad of stores to see. This market is usually open for five hours, but with the current restrictions, two hours is enough to enjoy the full experience of shopping at night while savoring the cool mountain breeze. Thus, experiencing this place is a must in your Baguio adventure.
For more info about this place, you can contact the tourism office of Baguio City through the following:
---
Sharing is caring guys! Feel free to share this post with your friends! This post was updated on December 14, 2021.