It was 6 in the evening when I woke up from my sweet siesta. We were in Flotsam and Jetsam in San Juan, La Union that time and raindrops were drumming the roof of the hostel that night. Even though I felt recuperated from my short sleep, I was famished. I saw my friend on the other bed searching for any good place to eat around surf town in his smartphone. At first I thought of the Hungry Nomad Kitchenbar downstairs for convenience. Since we wanted to try something new, we looked for other restaurants in the end. Amid the rain, we drove from the hostel to a nearby food place known as Tagpuan sa San Juan.
Love, Food and Memories all in One Bowl
Tagpuan sa San Juan is a small food place located along Urbiztondo Road of the surfing town. It's like a common eatery or also known as "carinderia" in our language. But what does Tagpuan sa San Juan cultivates is not just the good food they serve, but also the concept of sharing love and memories.
Tagpuan is a Filipino term which means, "a place to meet agreed by two or more people." In other words, rendezvous, and this is one of the concepts made by Love Union – a consulting company which aims to help other businesses find a niche of their own; and it was a success!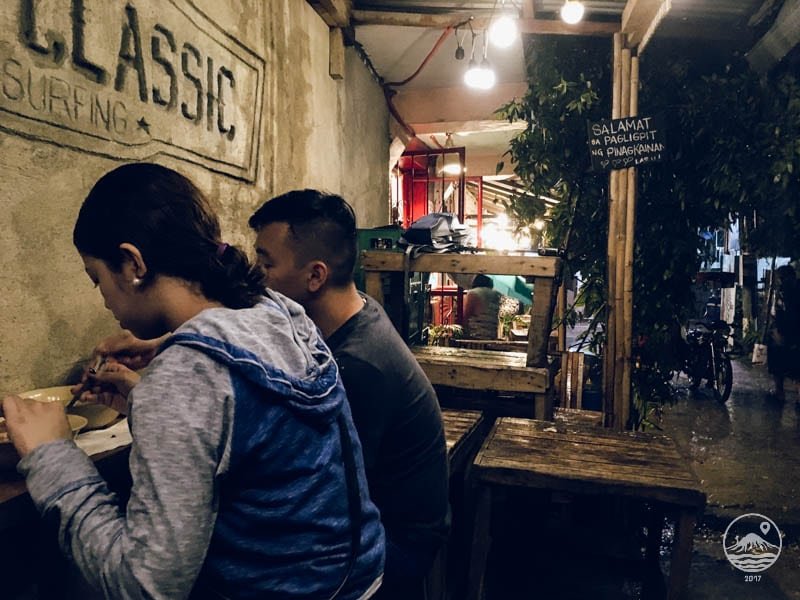 Tagpuan sa San Juan serves a variety of Filipino food from flavorful tapa to mouthwatering bagnet. As posted in their Facebook story, meaningful experiences are best punctuated with food. So what memories have Tagpuan sa San Juan in store for us?
To fight off the cool rainy night, I ordered their beef mami for only ₱50 ($0.96). I loved how that salty noodle soup gave warmth in my body in every sip. I also availed their tapa rice bowl for only ₱95 ($1.85). The thinly sliced beef (tapa) has enough juiciness in it topped with fried sunny-side egg, fluffy white rice and spring onions for a jam-packed combination of carbs and protein. To complete our cravings, my friend ordered tokwa't baboy for an additional ₱50 ($0.96). That's fried tofu paired with pork and relished with onions and other spices.
We spent our time in Tagpuan sa San Juan savoring our meal and sharing great conversations while waiting for the rain to halt. What's unique about this place is its endearing vibe. There's something in this small eatery which makes travelers, surfers and even locals fell in love with it. We may not know how. But I do know for sure, that every bowl served is a heart filled with warmth, love and good memories.
---
Tagpuan sa San Juan
Looking for a great place to eat around the surfing town of San Juan in La Union? Then visit Tagpuan sa San Juan located along Urbiztondo Road. This small eatery features various Filipino cuisine with large servings at an affordable price. They are open every Wednesday to Monday from 0800H to 1400H and 1800H to 0200H. The place is close every Tuesday.
[googlemaps https://www.google.com/maps/embed?pb=!1m14!1m8!1m3!1d2272.8236056911837!2d120.32088549153559!3d16.655931202484847!3m2!1i1024!2i768!4f13.1!3m3!1m2!1s0x0%3A0x43e31613d60a6a9a!2sTagpuan+sa+San+Juan!5e0!3m2!1sen!2sph!4v1504597070170&w=1200&h=600]
For more information, you can visit their Facebook page at https://www.facebook.com/tagpuansj/. You can also follow their Instagram account at https://www.instagram.com/tagpuansj/
---
Did you find this post helpful? Feel free to share it to your friends 🙂 This post was last updated at December 28, 2018.