Flotsam and Jetsam Hostel offers a great place to unwind in the surfing capital of Northern Philippines. With its summery vibe and chill atmosphere, Flotsam and Jetsam surely offers a unique tropical experience that every traveler loves. Here's our quick review and experience of this wonderful hostel in San Juan, La Union, Philippines. (Post Updated: September 17, 2019)
Flotsam and Jetsam Review
This seaside hostel became popular from promotions and posts of celebrities who visited the place. My friends and I decided to give it a try and see if this highly recommended hostel truly provides a unique experience. In this review, I divided my thoughts into 5 different sections with a quick travel guide at the end.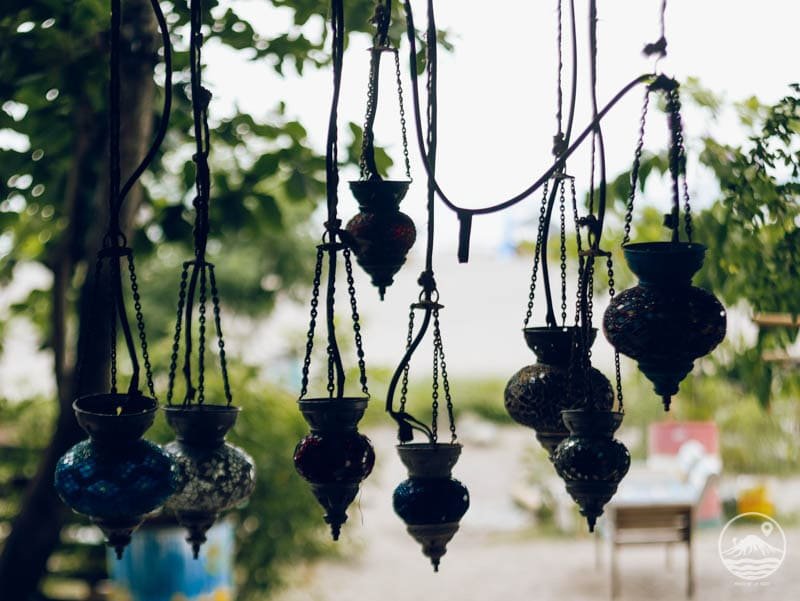 Endless Tropical Vibe
It was June when we visited Flotsam and Jetsam Hostel and the summer heat was still evident. The number of travelers though were few since summer in the Philippines had just ceased a day prior to end of May. With it, the clouds were enormous in the sky shrouding the light of the sun, a sign of an upcoming rainfall in the afternoon. We arrived in the hostel around 1000H and requested for an early check in.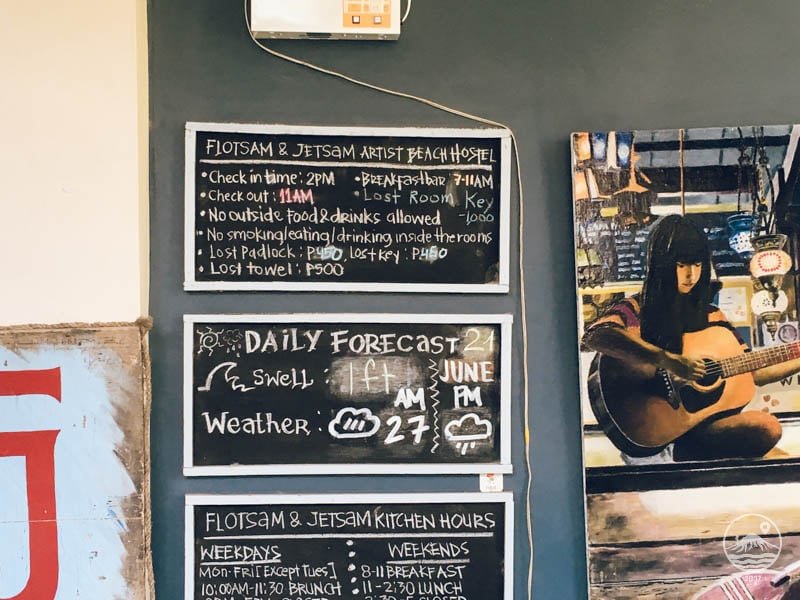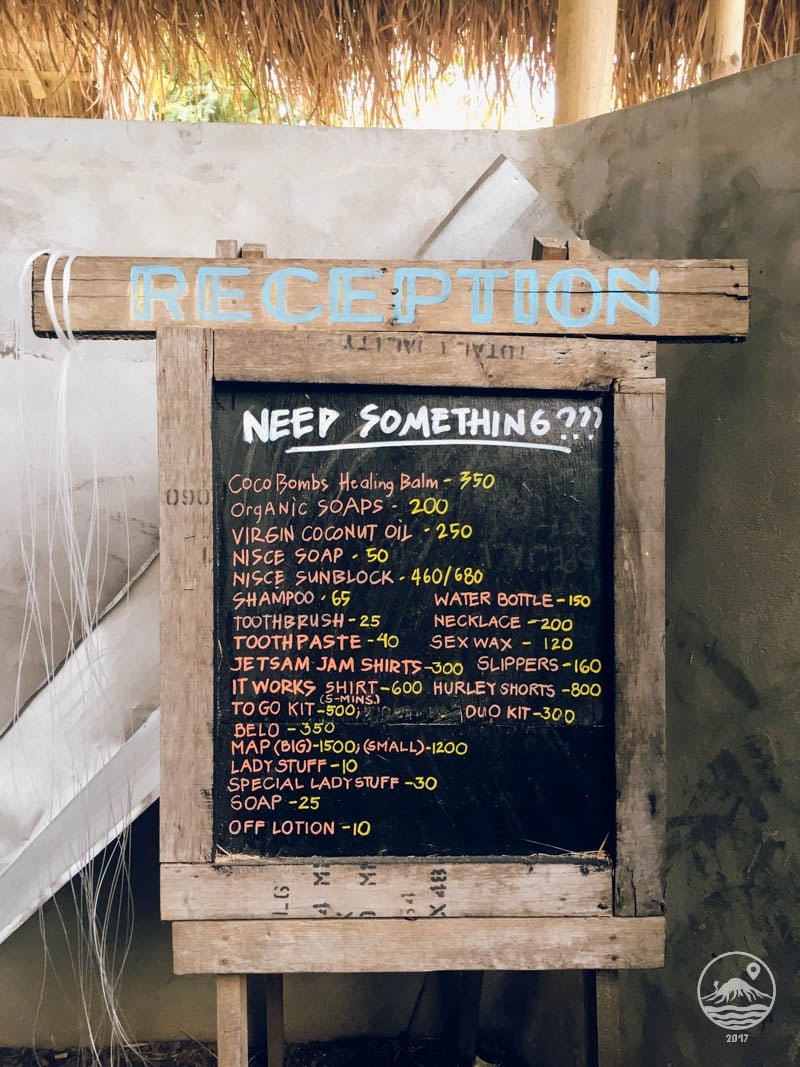 What's riveting about Flotsam and Jetsam Hostel is its design. Some people say it's hipster, but I think it is peculiar and unique. A good example are the small illustration boards hanged in the reception area displaying information of the weather and wave forecast jotted in colorful chalks.
Almost every part of the hostel is decorated with different kinds of small to medium-sized figurines, landscape photographs on wooden frame, and ethnically modern oil-based murals. What caught my attention though were the Japanese umbrellas printed with various floral canvass hanged upside down in the ceiling. The building of Flotsam and Jetsam Hostel is also painted with pleasing flat neutral hues conveying a nice tropical vibe. (Back to top)
A Surfer's Sanctuary
We stayed in Flotsam and Jetsam's air-conditioned premium dormitory. This 4-bed dorm room is petite but with enough space to occupy two bunk beds on both sides. Though the room is quite small, it is not short in function.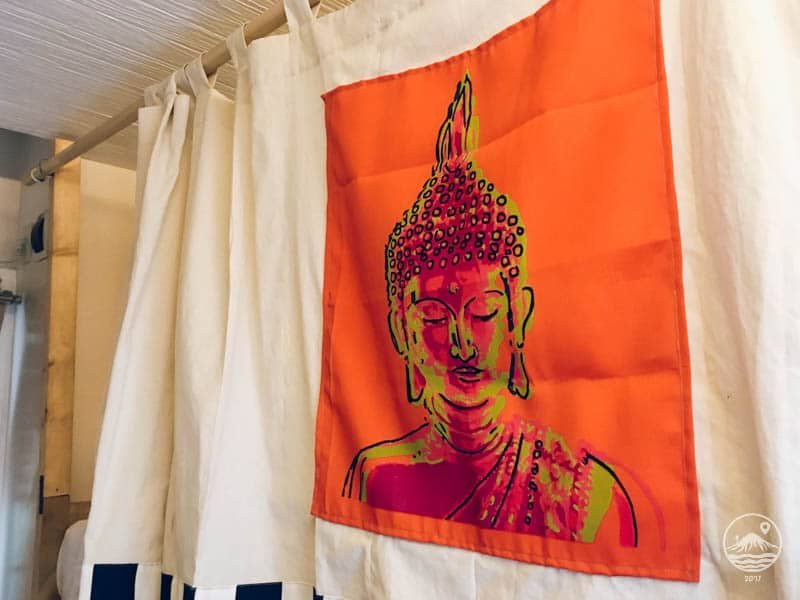 The Price
Each bed is equipped with a privacy curtain, light and power outlet on one side, individual lockers, pillows, linens, and a comfortable mattress enough to mend our tired body. Wireless internet is also available upon request. On the other hand, the price of this dorm room was surprising. One occupied bed costs ₱1350 ($27) a night. Since we were a group of five then the total cost was ₱6750 ($135). That's expensive for a beach hostel like this. Nevertheless, we went out and explored if this place was worth the price. Pricing was updated as of September 17, 2019. (Back to top)
A Colorful Plate at the Kitchen Bar
Flotsam and Jetsam Hostel also has its own restaurant, the Hungry Nomad Kitchen Bar. This bar and restaurant is located on the beach side of the hostel. Similar upstairs, this place is also heavily ornate with different kinds of artworks and designs.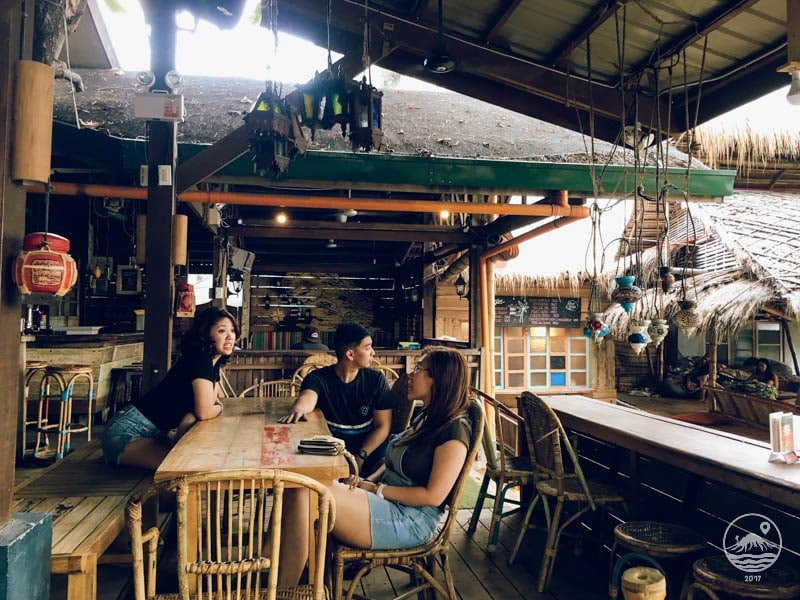 It has a wooden platform populated with tables and rattan chairs enough to accommodate a number of guests. Suspended lighting with different accents and colors hanged in the ceiling of the bar giving life and ambiance especially in the night.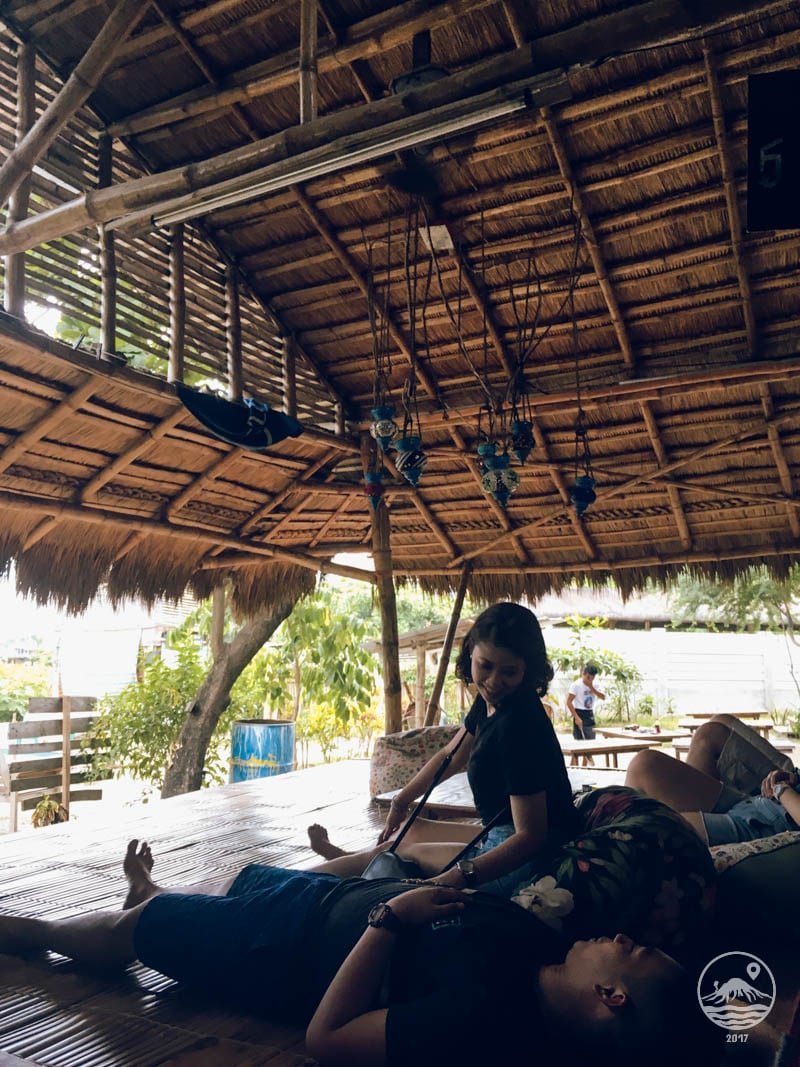 There's also a bamboo hut on the outer part of the kitchen bar with available microbead pillows and cushions perfect for spending a chill time with your friends while savoring the sound of the waves in the beach.
Aside from its sense of community, the Hungry Nomad Kitchenbar also serves continental dishes readily available for gastronomes like me. For lunch, I ordered their fried chicken padang (Left) for ₱270 ($5.40). My friends, on the other hand, ordered their breaded porkchop (Right) for ₱260 ($5.20) and nomad green curry for ₱290 ($5.80).
What I liked about their dish was the colors presented in the plate. The chicken was well fried and crispy with no excess oil seeping in every bite. The viand was partnered with high fiber red rice, served with various greens like eggplants and tomatoes, topped with anchovies and hard-boiled egg. Dipping the crispy chicken in that special sour sauce produced a flavorful explosion inside my mouth. The red rice easily provides satiety due to its generous fiber content which makes it a highly nutritious dish.
Availing any of their accommodation entitles you for a free breakfast in the kitchenbar. In the morning, they served different kinds of complex carbs like cereals, breads, jams and coffee which was perfect for energizing your day. The bar also serves draft beers and various booze and cocktails perfect for socialization in the night. (Back to top)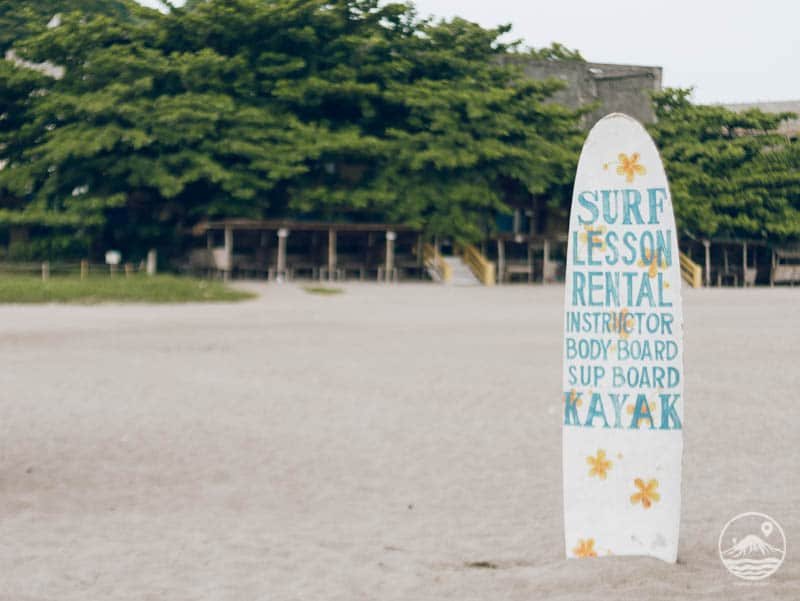 Dance with the Waves of La Union
At the heart of Flotsam and Jetsam Hostel is their intense passion for surfing. With the help from foreign nationals who introduced this leisure, La Union became one of the best surfing spots in the Philippines.
Surfing Lessons and Fee
Similar to other surfing spots across the country, renting for a board or taking up lessons are affordable. Here, I availed their surfing lessons for only ₱400 ($8.00) inclusive of 1-hour board rental and fee for the instructor. If you already know how to surf but don't have any surfing board to play, then you can rent one for only ₱200 ($4.00) per hour.
This was my third time surfing in the Philippines (first in Baler, then Reál) and I was glad that my skills has improved over time. A few more lessons and I think I'll be riding combers and breakers soon. (Wishful thinking haha)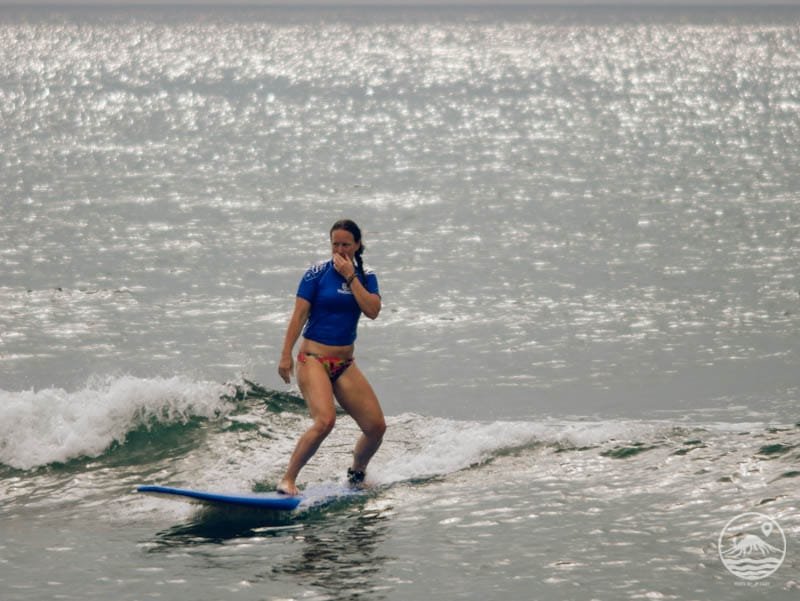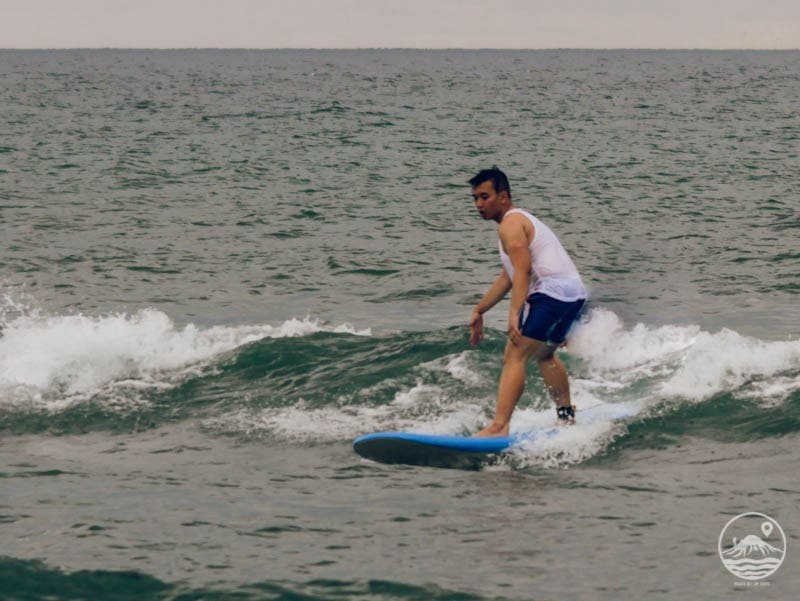 Unfortunately, the swells were not enormous when we surfed in La Union. It was the off season and locals told us that the waves were usually rampant during the months of July to October and November to March. Still we were able to enjoy surfing in La Union yet we have to wait for a good quality wave to arrive during our session for better experience. (Back to top)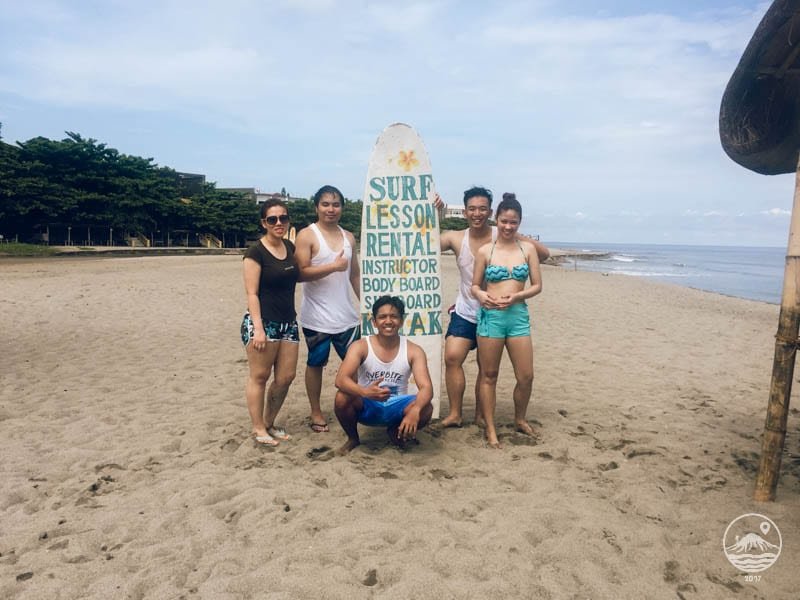 Wrapping Up
We had an amazing time in Flotsam and Jetsam Hostel. The atmosphere was lively and energetic, the staffs were congenial and accommodating, the food was a little bit pricey yet the taste and quality were remarkable, their dorm room was tight but not short in function and surfing were fun but the waves were a little bit shy that time.
Is the price worth it? I can say the price is just right for a beautiful place like this. It is nice to spend a little bit more for quality stay and vacation.
Will I ever visit this place again? Definitely! If I will make another come back in this surfing town then I will surely stay in this hostel again. Nevertheless, Flotsam and Jetsam Hostel is a place of unending summer.
---
Flotsam and Jetsam Hostel
General Information
If you're looking for a unique place to stay in San Juan, La Union then this is one of the best choice for you. Flotsam and Jetsam Hostel offers a variety of accommodation suitable to your needs.

How to Visit Flotsam and Jetsam Hostel?
If you have a private vehicle, then use any navigation apps like Waze or Google Maps and key in Flotsam and Jetsam as your destination.
On the other hand, if you're going to commute, the best option is to take a Partas bus from Cubao, Quezon City to San Fernando City, La Union (travel time around 4-5 hours depending on the traffic). Fare is ₱436 for a regular AC bus.  From the bus station in San Fernando, take either a tricycle (₱80 per passenger) or a jeepney (₱11 one way) going to Flotsam and Jetsam Artist Beach Hostel. (Back to top)
For further details and reservations, you can check their interactive website at http://www.flotsamandjetsamhostel.com/.
---
Thank you to Paolo Sicat for sharing his photographs for this article. You can visit his Instagram account at instagram.com/paolosicat
This post is updated on September 17, 2019.