My friends told me that your Baguio Vacation will never be complete without experiencing the best tasting beer in the city. Baguio Craft Brewery offers locally brewed beer in a great location where you can spend time with friends and love ones. This place grew from a simple inspiration which became as one of the best spots in Baguio City. (Post Updated: September 18, 2019)
The Inspiration
This premium pub started as a simple home brewery. The owner, Mr. Christopher Ordas, learned how to brew beer in their garage when he was living in Canada. He then decided to put up his own brewery in the Philippines and opened its door to the locals of Baguio City in 2014.
Apart from the popular pilsner that we know, Baguio Craft Brewery uses natural ingredients in making their own beer. According to their craft story, they don't add any additives or chemicals to their drink. That's why local customers and travelers love visiting this place.
Baguio Craft Brewery Location
Right now, there are two (2) available locations of Baguio Craft Brewery. Their main branch is in Baguio City and the second one is in Cebu City.
Baguio Craft Brewery: Basic Details
Baguio (Main Branch): 120 RKC Building, Marcos Highway, Km 4, Baguio City, Philippines
Cebu Branch: Inez Villa St, Apas, Garden Bloc, Cebu IT Park, Lahug, Cebu City, Philippines
Contact Number: (074) 620 -2278 (Baguio Branch) / (032) 324-7929 (Cebu Branch)
Opening Hours: Weekdays – 5:00PM to 1:00AM / Weekends – 1:00AM to 1:00AM
We are going to focus on the Baguio City Branch for this post. My friends and I visit this place regularly every time we have a short trip to Baguio. Here's our quick guide, review and experience of Baguio Craft Brewery.
How to go to Baguio Craft Brewery in Baguio City?
The Baguio Branch is located at the outskirts of the city. We took a cab going to this place and this is the easiest method for commuters. If you have your own car, go to Ben Palispis Highway (formerly Marcos Highway) and you'll find the RKC Building on the left. Alternatively, you can use Google Maps for navigation.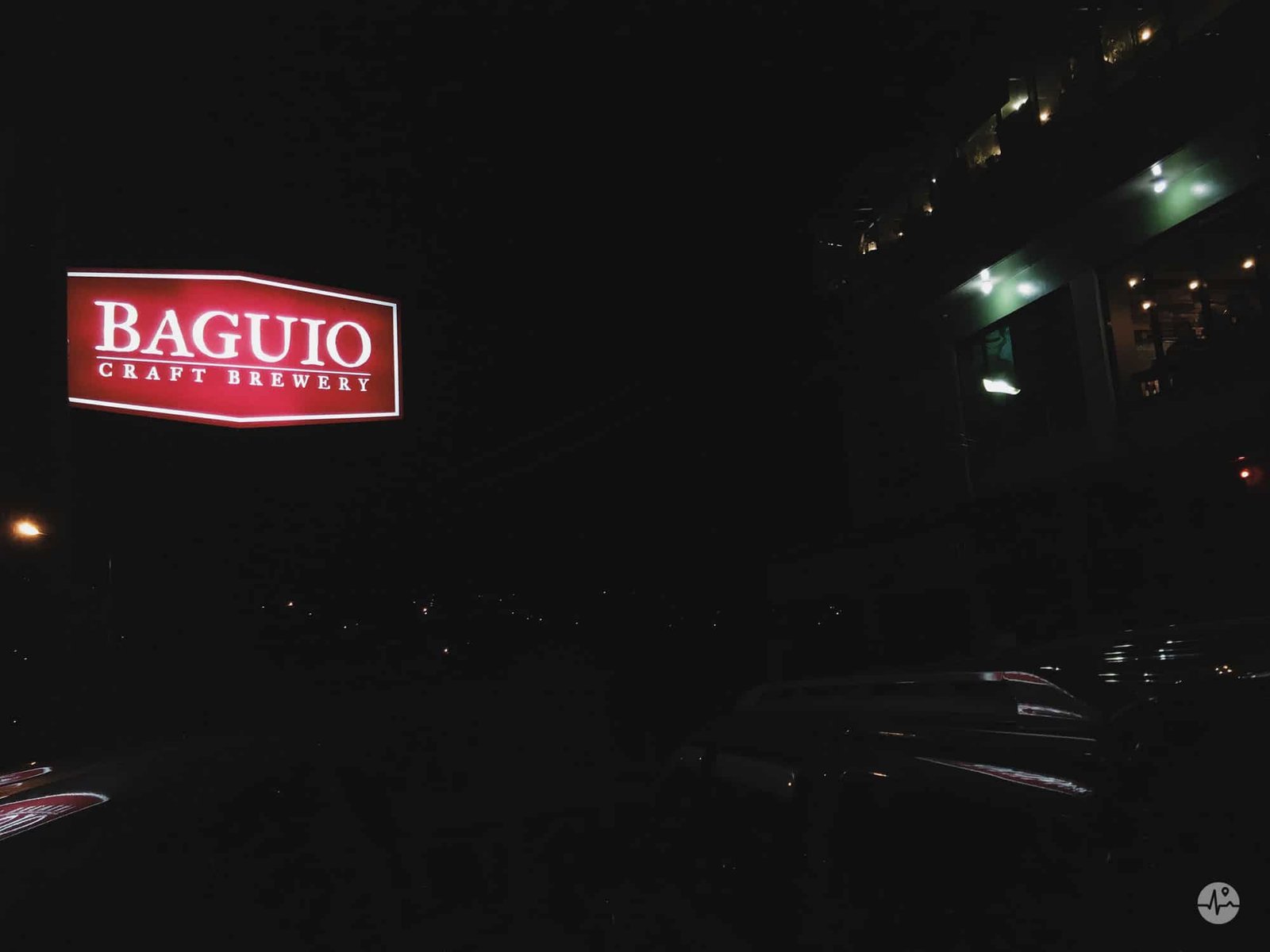 Baguio Craft Brewery Review and Experience
After our shopping spree in Baguio Night Market, we took a cab from Harrison Road and went to the place. The bar is positioned on a hill which will let you view the cityscape of Baguio at night.
Upon entering the place, we immediately noticed the beautiful beer taps at the centerpiece of the bar. The taps are decorated with indigenous Cordillera Art and with printed labels on it. The pub has a rustic vibe and the cool atmosphere of the city provides comforting ventilation inside.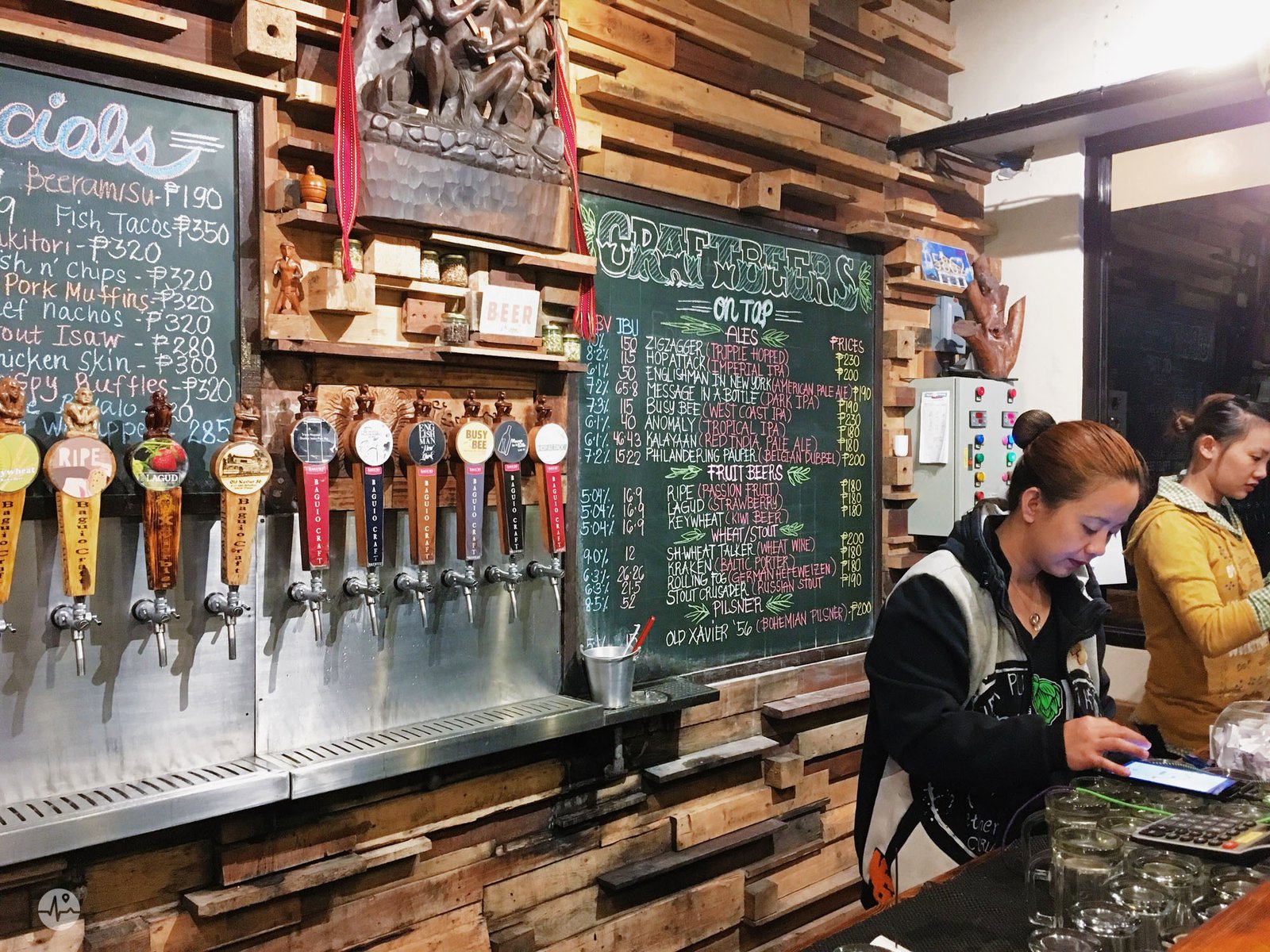 Ale is the Way
Baguio Craft Brewery offers 21 different craft beers from their taps. The beers are mostly brewed from ale and it has a distinct flavor and bitterness. Fruit beers are also available, which are their bestsellers, as well as beers brewed from wheat and roasted malt.
They categorized their crafted beers according to ABV (Alcohol by Volume – amount of alcohol in a given volume) and IBU (International Bitterness Unit – a standard unit used to measure the bitterness of an alcoholic drink). Zigzagger has the highest ABV at 10% and IBU of 150; it's also labeled as "triple hopped."
During our stay, we tasted some of their creations for free. I tried the Sh-wheat Talker (Wheat Wine) and Anomaly (Tropical Ipa), and Sh-wheat Talker has some earthy taste while Anomaly is too bitter to my liking. You can check their complete list of crafted beers here.
The Chill Vibe
Baguio Craft Brewery also has a bar at the top floor of RKC Building. This part offers a good view of the city, the unique taps at the centerpiece, and wide open windows for cooler ventilation. The venue is also perfect for simple social gatherings while enjoying the cool winds and warmth released from your favorite beer.
We spent most of the night at the top floor of Baguio Craft Brewery. My friends and I shared memorable stories together while enjoying our tasty craft beers. I ordered their Passion Fruit Beer and it has a sweet and tangy flavor in it. It doesn't smell like a beer since it has a strong aroma of passion fruit. Similarly, one of our colleagues ordered the Keywheat which is infused with kiwis. These fruit beers are still bitter to my liking but I do love it.
Wrapping Up
Overall, our short stay and experience here in Baguio Craft Brewery was enjoyable. They also offer meals in this place and their ingredients came from the farms of Benguet. You will surely have the freshest Filipino dishes and it's perfectly paired with their own crafted beers. Surely, your Baguio trip will never be complete without experiencing Baguio Craft Brewery.
Complete Your Baguio Vacation
Check out our most comprehensive travel guide in Baguio City. This post contains places to visit, recommended restaurants and hotels to stay, and itineraries! Click the link to learn more: Baguio Itinerary 2019.
---
Did you find this post helpful? Spread the love by sharing this to your friends. 🙂
This post was updated on September 18, 2019.