Do you know that famous song describing New York City? It is described as a concrete jungle where dreams are made, which is true. New York City is a place where history meets modernity. It has been a global icon of culture, entertainment, and diversity. In this article, we will discuss several New York tourist attractions we visited, from the historic Statue of Liberty to the Top of the Rock overlooking the beautiful Manhattan skyline. We will also share important travel tips to make your experience seamless and things to do in the Big Apple. Whether you're a first-time visitor or a seasoned traveler, you will be enchanted by this city's endless wonders. So, welcome to New York City!
Table of Contents
New York Tourist Attractions
Would you like to add this list on your smartphone through Google Maps? Just tap or click the photo or link below: https://maps.app.goo.gl/HE7CbUuKstApQmpu8

1. Travel through time at the American Museum of Natural History.
One of the things to see in NYC (New York City) is the American Museum of Natural History. The museum was founded in 1869 and boasts a wondrous display of human history, science, and nature. Travelers worldwide visit this museum for its towering collections of dinosaur fossils, outstanding dioramas, and captivating exhibitions. The museum has recently opened the new Gilder Center, a marvelous atrium with a unique architectural design connecting all galleries in the museum. The new center also houses the butterfly vivarium, which children will surely love.
In addition, the American Museum of Natural History also has a planetarium covering topics of space exploration. Nevertheless, spending time in this place is a must, and it's worth it! The museum is open daily from 10:00 AM to 5:30 PM and is located at 200 Central Park West. They are closed on Thanksgiving Day and Christmas Day.
Travel Tip: Plan and make reservations before visiting the American Museum of Natural History. You can purchase timed-entry admission tickets online through this link: https://www.amnh.org/plan-your-visit.
2. Take a walk in Central Park.
Central Park is a verdant oasis nestled at the heart of New York City. The park boasts 843 acres of green landscapes, winding trails, and exciting structures. It's a pleasant tourist attraction in New York wherein visitors can have a leisurely walk while enjoying the tranquil atmosphere it provides. Other activities you can do include boating in the lake, seeing animals at the Central Park Zoo, or having a picnic with friends on the Great Lawn. It is a timeless escape and offers a peaceful respite from the city's hustle and bustle.
3. Visit the iconic Apple Store on Fifth Avenue.
Another place to see in New York is the iconic Apple Store on Fifth Avenue. What's special about this retail store is its glass cube design, unique among the high-end stores along Fifth Avenue. According to Apple, the store has received more than 57 million visitors since it opened in 2006. Whether you want to snap a photo or purchase their latest product, Apple Store Fifth Avenue should be part of your New York bucket list.
4. Pray at St. Patrick's Cathedral
Tourists seeking both cultural and spiritual enrichment can visit the historic St. Patrick's Cathedral in Midtown Manhattan. Visitors will be stunned by its towering spires, intricate stained glass windows, and beautiful marble cladding. You can visit or attend their daily services and bask in its peaceful ambiance.
5. Enjoy the view on Top of the Rock.
Top of the Rock is one of the best observation decks in New York City. It sits on top of the 70 floors of 30 Rockefeller Plaza and provides an astonishing 360-degree view of New York City. You will see the amazing scale of Central Park on the northern side of the observation deck. Whereas facing the south, you will witness the gorgeous Lower Manhattan skyline with the Empire State Building perfectly positioned in the middle. The place is open daily from 9 AM until midnight and accepts visitors until 11:10 PM.
Travel Tip: Aside from making reservations online for a seamless experience, you can also save money by purchasing a CityPass ticket. Purchasing a CityPass ticket includes admission to five different tourist attractions of your choice and is valid for nine days. My friends and I availed a CityPass, saving up to 40% compared to making individual reservations. You can check CityPass now through this link: https://www.citypass.com/new-york.
6. Feel the energy of Times Square.
Times Square is absolutely one of the New York tourist attractions you should not miss. This place is known for dazzling Broadway shows, vibrant shops, diverse restaurants, mesmerizing digital billboards, and incredible street performances. It is a hub of entertainment and excitement. Interestingly, this is where the people celebrate the ball drop during New Year's Eve. You will never run out of things to see or do in this iconic place.
7. Marvel the Beauty of Grand Central Terminal
Another historic place to explore in New York is the Grand Central Terminal at 89 E 42nd St. The station opened in February of 1913, providing connections to different parts of the city. Tourists can admire the architectural design of the Main Concourse, indulge in different dining options, shop for gifts, and immerse in the busy atmosphere of this iconic transportation hub. Witnessing the beauty of the Grand Central Terminal is a must for every tourist visiting New York City.
8. Get on top of the Empire State Building.
The Empire State Building is an iconic and historical landmark offering another perspective of New York City. Awaiting on top of the building is the majestic panorama of the city. In addition, tourists can enjoy a fresh cup of coffee served by Starbucks Reserve while mesmerizing the sunrise on top of the Empire State Building. However, a reservation is required to avail yourself of this unique experience. 
What I like about this observation deck is the feeling of traveling through time as you pass through the exhibits and learn about its history before being rewarded with the wonderful views of the city. Every new visitor to New York must see this number-one attraction in the city. The observation deck is open daily from 10 AM to 11 PM.
Travel Tip: I recommend visiting these Observation Decks in the morning or before sunset. As a photo hobbyist, I prefer taking photos during these times of the day because of the vibrant colors and gradients (the golden hour effect). Plus, it's less crowded whenever you visit early in the morning.
9. Explore the Hudson Yards
One of the new attractions to see in New York is the Hudson Yards. It is a new cultural and entertainment hub on the west side of Manhattan. Tourists can shop around the mall, dine at different restaurants, and explore attractions on this side of the city.
Outside the mall, you will find a new public landmark called the Vessel. It's an interactive eccentric structure made with spiral staircases. Visitors can enter the base of this artwork, but climbing the staircases is prohibited due to safety concerns. Aside from the Vessel, you will find the Shed, an entertainment venue with an artistic design and shape. The Shed has a telescoping shell that can expand and provide a platform for large-scale performances. With all these extraordinary features, tourists should visit this new spot in the city.
10. Experience the Edge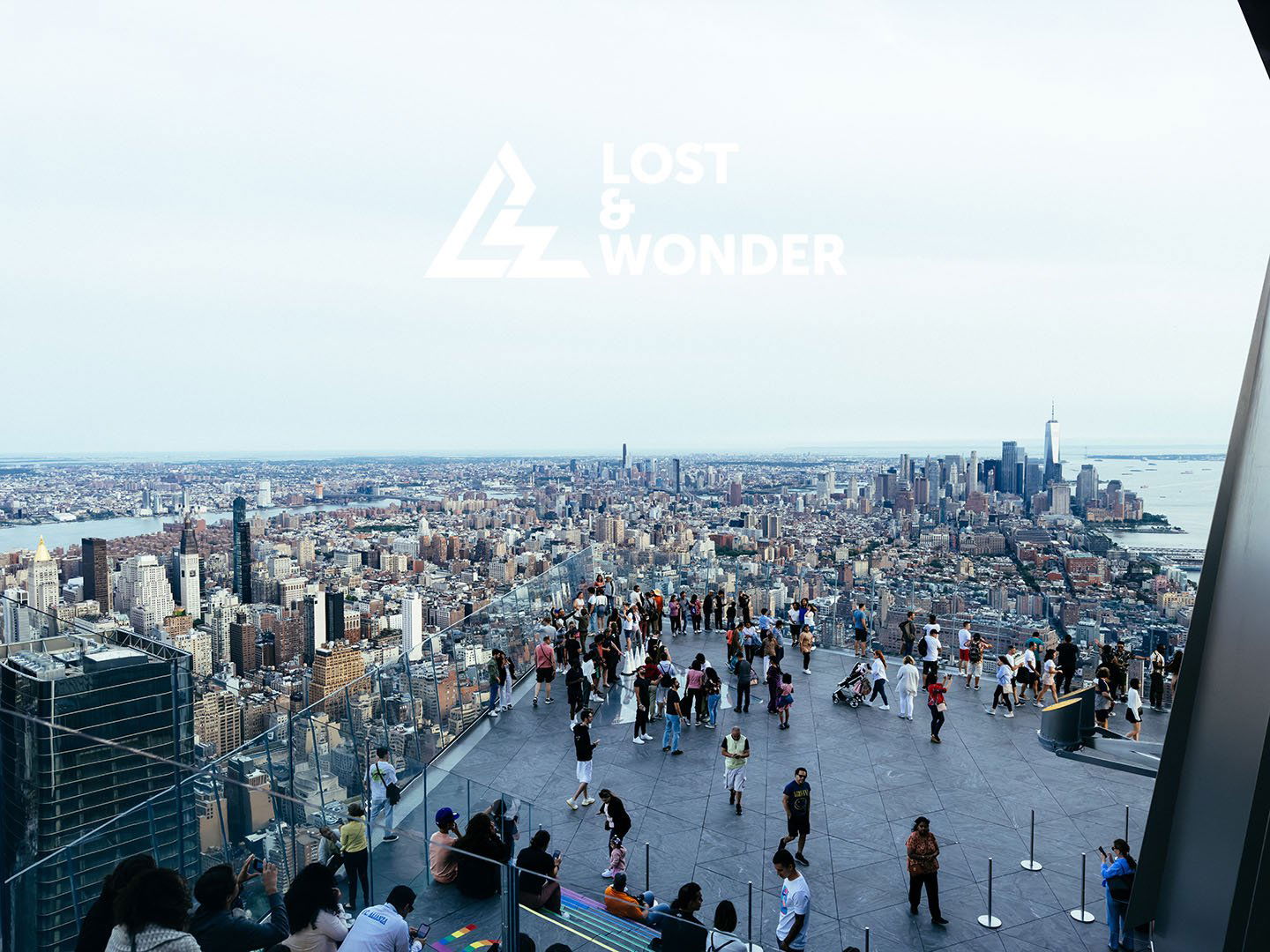 After visiting the attractions in Hudson Yards, it's time to go up to the highest viewing deck in the western hemisphere of Manhattan. Of all the observation decks we visited, the Edge is my favorite. Aside from the all-around view of New York City, you can experience an adrenaline rush by looking 100 floors down from their transparent floor.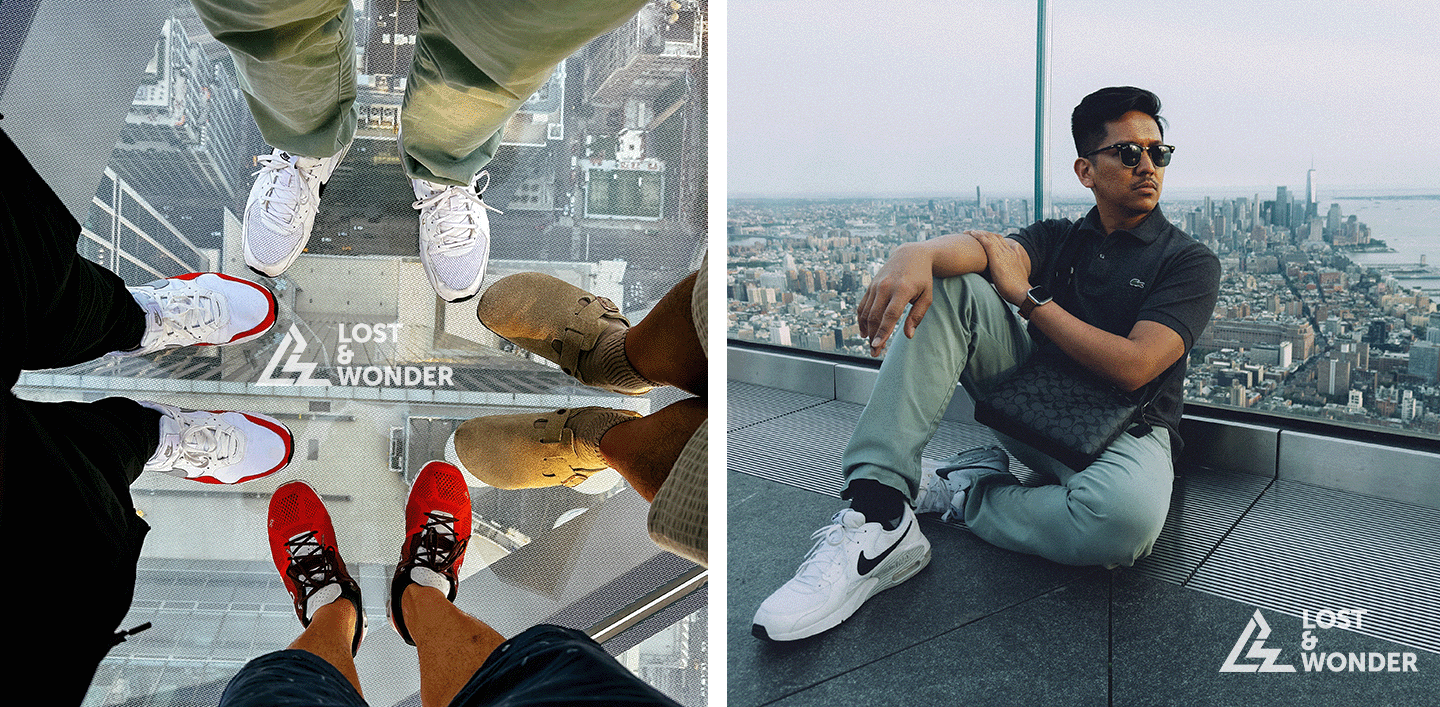 Another unique thing about this viewing deck is its angled glass walls, providing a better view of the New York Skyline. To get things more exciting, the Edge also offers a thrilling adventure through their City Climb, wherein visitors can walk at the 1200-foot deck, offering the highest outdoor platform in the city. Include this attraction on your travel list; you will experience New York City like never before.
Travel Tip: The Edge is not part of CityPass tourist attractions. You need to make a reservation online before visiting this place. Please visit this website to make an online reservation: https://www.edgenyc.com/
11. People watch at the Washington Square Park.
If you are looking for a place to people-watch besides Central Park, Washington Square Park is a great place for you. Tourists can admire the stately arch with the Empire State Building beautifully framed in the middle and witness various street performances. You can also relax in the shade of century-old trees, interact with the locals, or just read a book while enjoying its atmosphere.
12. Stop by at the Oculus Center
Tourists visiting the One World Trade Center will surely stop by the Oculus transportation hub. This massive structure houses several subway stations leading to different places in New York City. In fact, it is the fifth busiest station in the city! The Oculus features a unique rib-like structure, making it a famous New York tourist attraction. Surprisingly, this place is also the most expensive station, costing $4 billion in construction. Aside from its enormous design, the Oculus also has stores to shop around.
Travel Tip: Be like the locals. New York is one of the most accessible cities in the United States. Thanks to their subway system, tourists can experience the convenience and reliability of traveling to different parts of the city. Make sure to use one form of payment in the New York Subway for the entire visit. In my experience, I used my iPhone through Tap to Pay with OMNY to pay for my rides in the subway. Pay for 12 rides with the same card or device in a week, and additional rides within the week are free! Check this website for more info about NYC Transit Fares: https://new.mta.info/fares.
13. Commemorate 9/11
The whole world was shaken because of the tragic events of 9/11. We visited the 9/11 Memorial and Museum to commemorate and learn about the devastating event of the September 11 attacks. The place has two memorial pools, which are remnants of the World Trade Center towers. Visitors can pay their respects at these pools, and each pool is inscribed with the names of nearly 3,000 victims of the 2001 attacks.
On the other hand, the museum exhibits artifacts from the old towers, photographs, and personal stories from victims and their families. The museum provides a moving, profound understanding and a deeper appreciation for resilience and unity. It's a solemn yet powerful experience that will truly leave a mark on every visitor to New York.
14. Take a photo with the Charging Bull
Weighing over 7,000 pounds (3,000 kilos), this mighty bronze statue in the Financial District became an instant tourist attraction from 1989 until today. The charging bull symbolizes the financial optimism and resilience of Wall Street. Some tourists visiting the statue consider it a symbol of luck, prosperity, and financial success. Nevertheless, it is quite a tourist spot, and it is a must for you to have a photo with this behemoth.
15. Visit Dumbo
Dumbo, also known as the "Down Under the Manhattan Bridge Overpass," is a vibrant neighborhood in Brooklyn, New York. It is a trendy New York tourist attraction, and visitors come to this place to experience its thriving art scene and gourmet cuisine from local eateries. But the best part is to be captivated by the fantastic views of the Manhattan Skyline framed by the historic Manhattan and Brooklyn Bridge.
16. Stroll across the Brooklyn Bridge
Another tourist attraction close to Dumbo is the Brooklyn Bridge. This bridge's marvelous architectural design offers a good view of Lower Manhattan. You can stroll or bike across the bridge while learning about its rich history and admiring its beauty. Don't forget to capture photos in this stunning tourist spot and create memories that last a lifetime.
17. Learn the History of Castle Clinton National Monument
Castle Clinton National Monument is one of the oldest structures built in New York City, located at the southern tip of Lower Manhattan. It was built to fortify the city and prevent the British Invasion in 1812. Today, this structure is a national monument that welcomes tourists worldwide. This is an excellent addition to your New York City vacation, especially for history buffs out there.
18. Find connections at Ellis Island.
As economic instabilities and problems arose in European countries during the 1800s, many immigrants entered the United States to hope for a better future. Ellis Island opened on January 1, 1892, as an immigration station accepting newcomers worldwide. Since its opening, Ellis Island has processed over 12 million immigrants, making this tourist spot a poignant reminder of America's immigrant heritage.
Today, visitors can explore the museum filled with exhibits of photographs, artifacts, and stories of success and heartbreaks. It is a moving experience and allows tourists to connect with their ancestors through their records and archives. Interestingly, I found out that my earliest ancestor set foot in the United States during the 1930s. This made me think of my family heritage and allowed me to reconnect to my past. Ellis Island is an important New York tourist attraction that you shouldn't miss.
Travel Tip: Making a reservation before your trip is crucial! My friends and I purchased a ticket online through the Statue City Cruises. We availed the New York Pedestal Reserve, and this trip includes admission tickets to the Statue of Liberty, its pedestal, and Ellis Island, and a roundtrip boat ride from Lower Manhattan to Liberty and Ellis Island. If you are coming from the New Jersey side, you must purchase the New Jersey Pedestal Reserve tickets. For more information, you can visit this website: https://www.cityexperiences.com/new-york/city-cruises/statue/.
19. Be inspired by the Statue of Liberty.
Your trip to New York City will only be complete with visiting the Statue of Liberty. This monumental statue is a symbol of freedom, hope, and inspiration. Millions of tourists visit this structure annually to witness its history and understand its profound message for all. Aside from the statue, you can also explore the island and enjoy its greenspace and museum.
The museum houses different artifacts, interactive exhibits, and various statue replicas. In addition, there's an option to go inside the pedestal and see the world as the Statue of Liberty sees it. Your visit to the Statue of Liberty and museum is a tribute to the ideals of liberty and the diverse tapestry of America's past and present.
20. Take a cruise around Manhattan.
Last but not least is to experience the Best of NYC cruise! The cruise takes over 2 hours and will travel around Manhattan Island, voyaging the Hudson, East, and Harlem Rivers. The cruise will pass by Liberty Island and under different bridges connecting Manhattan to other boroughs and New Jersey. This is a convenient and enjoyable way to see many of New York City's top attractions while relaxing on the water.
Travel Tip: Best of NYC Cruise is part of the CityPass tourist attractions. After purchasing a ticket through CityPass, select the Best of NYC Cruise option and make reservations.
---
Conclusion: New York Tourist Attractions
So there you have it! Our list encompasses the most essential tourist spots in New York City. Whether you're gazing upon the city from the Empire State Building or strolling around the tranquil paths of Central Park, this city is a tapestry of cultures, histories, and dreams. From the dazzling lights of Times Square to the solemn 9/11 Memorial, New York Tourist Attractions offer diverse experiences that will surely leave an indelible mark on the hearts of travelers. You will return home with unforgettable memories and a heart filled with vibrant energy and a joyful spirit.
Like our list? You can add this helpful New York Tourist Spots list on your smartphone through Google Maps by tapping or clicking the photo or link below: https://maps.app.goo.gl/HE7CbUuKstApQmpu8